Shimoga Safari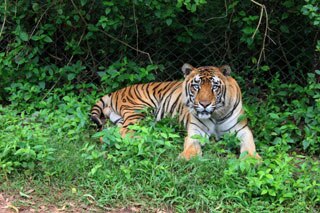 We started the trip by breaking a coconut at the Vinayaka temple at the Yelehanka town and left to Tumkur highway and turn left to Bangalore-Mangalore highway, needless to mention. Driving the car through that highway is most of the youngster's dream and I was happy that I am enjoying that time. We (my wife Charumathi- whom I call Charu and our lovely daughter Rachna, whom we call Rachu) left Bangalore, in few minutes of time and then travel an hour an half and visited Shravanabalagola then after seeing picturesque monuments of Halebedu we went to Mudigere. Since our home stay was booked at Mudigere (Divya darshini – Home stay) we had travelled from Halebedu to Mudigere the distance was 45 kms and the road was bad with uncountable gutters that resembled like cliffs, it was quite challenging drive. My wife Charumathi (whom I call charu) who was always interested in looking at the scenery than driving and she kept on commenting on the beauty and listening to all country and old classic English songs. She managed to buy a book from Shravanabalagola regarding Halebedu, Belur and Hampi. Entire trip she narrated the story of Halebedu, Hampi that we visited as though I am the director for the upcoming movie and she is trying to encash her script. The story was all about Hoyasala's and their magnificent architecture and cheating, murder among their dynasty. Story line has been simple during the grandfather's time (Krishna Deveraya) people were happily living among Muslims and during the grand son's time of Kingdom got ruined by bitter battles. There was looting, cheating and vandalizing that has been so common even at these times during a riot. But while trip I was more worried about how I could handle the car safely with zig-zag gutters and puddles and potholes on the road and I wished if I had 1000 arms like Karthaveera arjuna king who can drive on Indian roads. Wherein my 4 year daughter and my wife who both are interested in combing hair, make-up and playing with their favorite computer rhyme and games. Most of the time mother and Rachu managed a bonding and kept on teasing me for all fun stories in our life. For them I am free fun packet at no cost. In the car, every facility was there it had lot of toiletries, juices, books, perfumes, food, games than a normal house has. In short it was moving house, my wife was so interested in packing, it had even emergency lamp and mosqueto repeller, that came handy most of the time in our trip.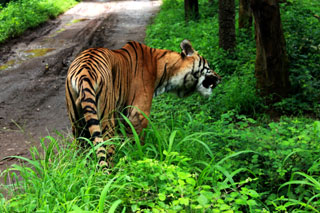 After passing through fantastic, mystic mountains, valleys, coffee and cardamom estates we have travelled through roads that are more or less like curvy snake that kept on challenging my driving skills. While passing through the estate we hardly found humans walking on the road instead we found lot of cattle who were not happy to give way to our car. Some of them did frowned at us, as if we have spoiled there peaceful grazing and walking time. The stay at Mudigere was simple and elegant, the estate owner, Mr. Venkatesh, did explain the nature and type of work he does. He did prepare as fabulous lunch (Karnataka style with poori and chilli-bajji) and served food for us at 4 pm that was late lunch for us. Though our stomach was giving all weird animalistic sounds, we did eat quickly as though we had come from Somalian refugee camp. By the time we could catch our nap, Rachu was interested in seeing ducks, rabbits, swans, goat and a variety of dogs (german shepherd and dashhoud). Mr. Venkatesh showed us his estate and the variety of spices, coco, coffee and vanilla plantation that he had. We were interested in seeing all those with keeping a wide eye open and trying to battle with our eyes who was more interested in closing so quickly as though the game is over. Alongside there werehe smarty leeches which were thirsty for blood. I could see living Dracula's in all of them. One of the leeches did manage to reach to bite and suck blood from my thighs. Smart one!!! But I could not take it out immediately hiding my irritation, keeping a smiling face and nodding to all those comments of Mr. Venkatesh and I was dying to reach the room to pluck it off from my body. It did left a scar on the body. In the evening Mr. Venkatesh showed his house's interior that was built 75 years back with the traditional Karnataka style construction. After house- tour, he showed his collection of air – rifles. I could barely lift one of the guns that could load two bullets and my Rachuwas in fact worried whether I might accidently shoot some-one!! She was more interested in seeing the aquarium and coin collection that he had. His son did serve with homemade wines of Mango, ginger, apple and orange. Each one did taste different but after few glasses of wine I was more interested in reaching heaven by hitting the bed immediately.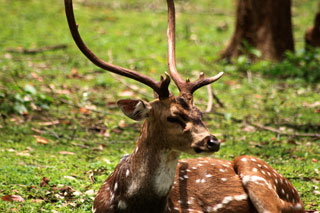 After a good night dinner and sleep we were off to Jog falls, en route to Ankola beach that requires a decent 10 hours of drive without break. This stay was a packaged deal with lunch, coffee snack, dinner and break-fast. At the time of leaving Venkatesh gave me a sample pack of cardom, pepper and souvenir of vanilla and coco seeds. It was an education trip for Rachu. The whole place was so wonderful with valleys, mountains and beautiful water fall that looked like a silver string around a lady's hip.

Prior to the trip I did spot on Tyavarekoppa Lion and Tiger Safari which is located about 10 Kms from Shimoga on the way to Sagar. but I was not pretty much sure about my arrival time. Out of the blues we passed the safari to Sagar through NH 206 quickly I could stop my car and woke up my wife who was more interested in day dreaming in an Air conditioned atmosphere hearing on to Eric Clapton songs. I did ask her, 'Would you like to see Lion and tiger safari before she could speak but Rachuscreamed out, go appa go ..ulle aaru irukaa nnnu pakalam in tamil… I also told myself let's see who is in'.

Before I could listen to my wife's comments of how we are able to catch up the drive and distance to cover, I gave my car a nice U-turn and stopped in front of the Tiger and lion safari park. Since I was lazy enough to get out from the driving seat, I smiled at my wife and she understood that it's always her turn to buy entry and camera tickets for the park. Once she bought I rushed into the park as though I would see these big cats next to the gate with a welcoming smile.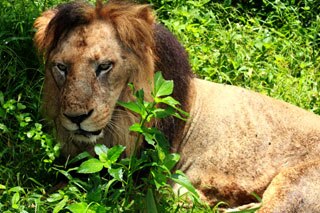 After we parked our car in the parking lot, Rachu dragged Charu and hopped in to the bus as though it is going to start immediately. Now my wife smiled at me, meaning it's my turn to buy the entry tickets , she has this weird habit of tit-for-tat, wait my darling, I will give you the chance next time, with great luggage of canon camera bag that has three lens and with numb leg I was limped towards the entry ticket counter and enquired. With a great Kannada accent she did tell me that the bus would not start unless they have a minimum 15 passengers. It took time for me to understand what she was trying to explain needless to say that I would face a tough time with my Rachu who does not understand that economy of the sanctuary is more important than entertainment. I approached the bus and my Rachuasked me immediately, 'appa ask the driver to start the bus, then as usual I had to lie to her saying the lion and tiger has gone for coffee break and the restaurant is full and one of the tiger got sick and went to the hospital and it would arrive soon', her face turned pale, but she believed my story line decided to wait.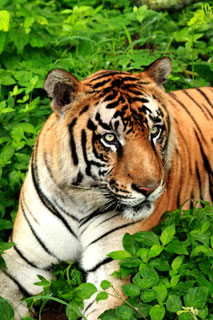 Then I had prayed to all the gods and goddess whom I have known from my child hood days that some more people should arrive so that official bus to park would start. Charu and Rachu caught front seat of the bus so that they would be able to catch up the 70mm screen view of the bus and they would not miss the glimpse of their movement and I was given asle seat where there the place is not comfortable. Twice my charu offered her seat for me to be seat so that I could have a good view and I flattely said no… Deep in my heard I would quickly jump and sit on that window view like a small child but I behaved like a responsible husband who is more interested in wife's silly pleasure. I know on the other side what my wife would be thinking while offering the window seat that ''Oh God let him not accept the offer of the window seat', like a telepathy I know what she is thinking, I left it a go. Out of nowhere a group of Karnataka youngsters arrived and they bought the ticket and joined us in the bus and few of them did complain why the bus did not leave immediately for the memorable trip they were waiting for. Then the bus driver came and sat on the bus and they waited for the conductor who was waiting for few more members to come and hop the bus to make it to their target. Then I wanted to show her Kannada language skills, and spoke to the driver 'Avaru yavaga baruthare'?. Then he answered 'Dayamadi ondu nimisha nilli', means asking her to wait. She gave me another look and smiled at me, I kept kicking to myself wish I am in Kerala; I could speak to someone in Malayalam where my wife is not fluent and doesn't understand a word of it. Since I am a palakkad iyer and she is from Coimbatore Iyer family but she never managed to learn Malayalam, that was boon for me for some time at typical situations of life. I smiled back, and murmered 'ninaku njan vechittundi'….. nee keralathottu vaa…. She asked what did I say and I replied 'nothing..Just praying for the conductor to come and check the tickets'. Then the conductor came and scrutinized the ticket as though we forged it from the nearby printing press. He further and punched it as though it is legal document that should not be replaced and produced at any cost. In addition, he ordered people with a commanding voice to people how to sit and I remembered our good old headmaster in a school and how he is use to speak while addressing the assembly or while visiting our class where most of the time our teacher sleeps instead of teaching in Class 8. We obeyed our so called conductor.. sorry … head master in the bus and like a good kids we were clinging on to the grill of the bus and we were all at the edge of the seat as though we are watching the Indi-Pak cricket match and there is one more ball to go and there should be sixer to hit to win the game.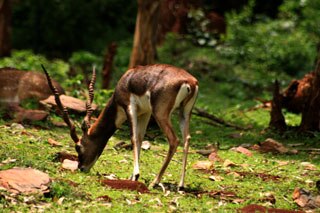 Then bus started and huge gate opened and I could remember Alaadin movie where we will see a door opening with a background music of 'Khulja Zim Zim', then an another door opened and we were off to the park. In few minutes I could see a tiger that just got up from the nap and then there was pin drop silence inside the bus. Few kannada words were muttered by the passengers saying how good the tiger is, others were saying whether the tiger has been fed or not, some of them even commented on the zoological name of tiger as Pantherea tigris, being a zoology student I remembered all those I just wished I should through away that guy out of the bus as he has been enthusiastic cutlet who kept on commenting on the tiger's zoological, ecological influence and impact. I told myself, this guy does not know how to live the moment that he passes though. Then the driver stopped the bus in such a way I could get enough shots of the tiger with a close distance of 2 meters. I got from my seat and fixed the zoom lens of Sigma 700mm and then requested the conductor to open the door slightly. Initially he denied but looking at the lens, he was impressed and I slowly peeped in to the gap of the door he opened and he held my collar for safety as though I am the rabbit and I would be thrown to the tiger for a snack. My life was at his hands, I told myself, 'you better take the shots or back off', don't be coward, awake your confidence and inner tiger and look at the eyes of the tiger. The tiger did give me impressive looks and naughty looks with great looks. It was awesome moment where I am in close contact with this truly majestic animal whether in wild or captivity, and I have no words to describe that moment, I just lived at that time. It's always a photographer or a nature lover would feel that moment and get some shots. We did have eye contact, I mean me and the tiger, I was wondering what it should be thinking, whether he should move forward and give me a tight slap for what I am doing … taking pictures with out permission' or the tiger should be saying it to itself that …..Do whatever you want my boy I am yours …. Aaaj ka shaaam there naam….. Kar de dhaaamal….. I clicked maximum number of pictures on my camera of the tiger some got out of focus and some of the snaps were sharp. In fact there was no time to check it out. I was more interested in taking pictures that has facial focus, walking posture, sitting posture, naughty posture, eye close up, mouth close up, whiskers close up etc. Five minutes face to face with a tiger with 2 meters distance… unbelievable. Oh my god, those minutes flashed so quickly and then the bus driver was interested in moving forward and conductor released my collar and I felt that moment I was the released from the rabbits life to human, I thanked him and he was interested in seeing the snaps and he told me 'Channakide saaar'… after looking at the close ups. I looked at my wife, since Kannada was not cup of tea and she translated, the snaps were fine, with a proud face of language possession skills.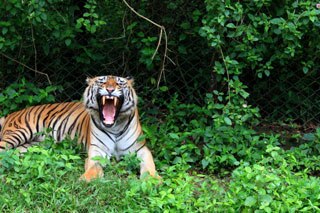 Then in few minutes we arrived at the Lion cage- this time the conductor asked me to get out from the bus and take a shot as though he wanted to give me as food to lion and see how it is going to eat. Luckily there was a cage between me and the 'great king. Immediately through the small window of the bus Rachu screamed 'Appa vegum vaaa… lion onnee chaaapitudium, meaning lion will eat you for lunch', I replied to her that nee kavalapedama iru… Naan ippo varen ... in tamil, meaning 'I WILL BE BACK', in Arnold Schwarzenegger style.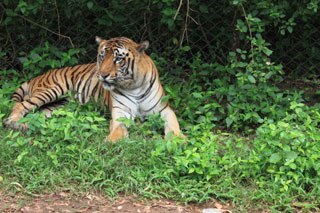 The Lion was more interested in licking and cleaning its legs and was sitting next to the cage. So I got from the bus where I should not be doing as per so called 'rules set by the park staff'. I changed my sigma lens to canon lens of 80mm and inserted the lens decently to the iron mesh and took snaps of the lion and after few of shots of different licking scene that the Lion was uninterested at my site I turned back to my bus. They could spot the tiger that was 40 meters with a glimpse of few second it could reach me but I wanted to show I am also small cat in my heart here I am.. dear … you cannot reach me, before that I would be hop in to the bus.. it would be hard try my boy… What gave is a stern posture and took my camera again and changed the lens to 700mm and too another shot of the tiger who was more interested in eating grass and I could see it from distance…may be it had stomach pain and trying Ayurveda for its digestive disorder. I hopped into the bus and my wife asked me a good question 'Kamal would you try this daredevil act if your parents are with you', I told her no chance, I would be descent child and I would definitely miss the glimpse of capturing into the camera and would be kicking on to myself and I would listen to my mom's instructions of not doing something smart. In fact my dad would yell at me if I had even tried that. That moment, I did thank god that my great wife who has confidence in me of backing me…. And she has given me permission to get out from the bus and take snaps of the great cats. I just wished she doesn't close the door of the bus and then I had no choice other than to get on to the top of the bus. Then the driver took us to the other side of park there were Chinkara, Sambar deer and peacocks. While looking at the Sambar deer, Rachu shouted at a sambar deer and shouted at it as spotted deer, hearing this my wife correct the names of the deer, no Rachu…… its Sambar deer, it's not spotted deer……. Then Rachu asked Charu 'Amma where can I see 'rasam deer'? We busted out in laughter and our bus proceeded to the exit gate of the park. Then with great feeling and sense of achievement I got off from the bus as though I am going to be new Santhosh Sivan of Photography we preceded to Jog falls prior to Ankola beach.