La La Leh-Ladakh
Text&Photos: Soumya Rajan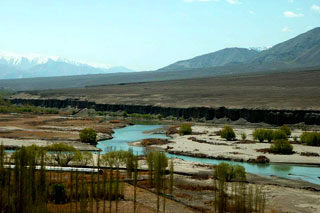 Leh Ladakh- I went, saw and stood conquered...


Boarding an early morning flight has never been a pleasant experience, but today I am more than awake at 3.00 am waiting for my alarm clock to ring. Its 8th May 2012 and I am en-route to the dream destination of many 'Leh- Ladakh' albeit for official reasons. I have fancied this idea for quite sometime and here I am all set with 2 pairs of jacket, goggles, sun screen, scarfs, a roll of cotton to plug my ears and loads of essentials as recommended by experienced friends.

The flight from Mumbai to Leh halted at Delhi and soon proceeded its onward course to Leh slowly and steadily beating the heavy winds. We thus climbed the altitude of many 1000s of feet soon leaving behind the familiar temperatures and weather conditions. The hill tops seemed sprinkled with white dust unevenly, much like what results from the pranks of a little boy. Very many peaks of the mighty Himalayas appeared just a breath away, all beautifully snow clad. Finally as the pilot announced our arrival at Leh, I couldn't help but grin from ear to ear at the otherwise suave crowd around. As we stepped out, the only sight around was endless stretch of mountains flaunting their snow-clad blankets glistening in the morning sun. It seemed like a welcome from the heaven above, which at such heights feel closer, when the first whiff of Ladakhi breeze played with my curled tresses.

The transition from sea level at Mumbai to 11,000 feet altitude started to play its magic on all tourists as some started feeling fatigued, some complained of a splitting headache and some like me nauseated. However its LEH and we ventured out which according to Leh- Travelers Bible was a NO NO on your day of arrival.


This little town of Leh is adorned with remnants of Buddhism as you take a walk through the main streets. The market place and the street corners, all give way to a set of Buddhist Prayer wheels which u can just push gently and let the prayer rolls inside invoke the almighty. I did buy a small one out of curiosity and have stored her like a treasure. The people whether the sweet meat vendors or the Tibetan handicraft sellers are so amiable and warm as against the spine chilling cold Ladakh.

Apricots and Walnuts were aplenty as like military vans and Armed soldiers. Momos and Tibetan delicacies like Rhucotse, Fuyong, tingmo and kothey were lip smacking even as maggie noodles ruled the roost by almost being omnipresent throughout the trip. If we need to enjoy or in better terms survive the extreme conditions of this cold desert, the mantra is to sleep well for atleast 24 hours on arrival, which I dint do. So I faced the music the next few days. WARNING: PLEASE SLEEP... LEH ALLURES BUT NEVER MIND TURN OVER AND SLEEP.

A visit to Santi Stupa was my first rendezvous with Lord Budha. The Stupa which overlooked the town of Leh almost symbolically expressed the influence of this prince turned spiritual leader over each and every nuance of a Ladakhi.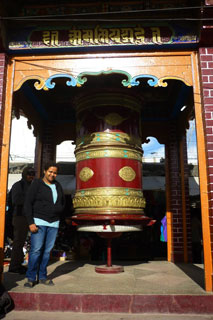 'Ju-Ley' was how they said Hello, Bye, oftentimes Okay and its the kind of unique identity of a Ladakhi. Another common sight is that of Monasteries with their beautiful aesthetics, seen at every village and every settlement in the region wherein the religious leaders preached and enlightened the community.

While remembering Ladakh, I must mention this experience I had with our driver Liyaquat one evening. We were driving back to the guest house and it was almost getting dark. I started noticing that the driver is not switching on the head lights and driving his vehicle. I got a little uncomfortable and was about to ask him to switch them on, soon I noticed that he simply switched them on and dipped for a second when vehicle from opposite side came close. Alarmed and hoping that he would have an explanation for this too, I asked him as to why he was risking my life and that of others. His reply would have earned him my gold chain of 5 sovereigns had I been a rich king visiting people. He said ' Madam, how can we be selfish here? Its getting dark and the driver on the otherside would find it more difficult to see the road with my blinding headlights'. I soon went on a trance thinking of how smooth 'Sion- Panvel Highway' would have been with this Ladakhi principle in place. Its Buddhism I guess which has made people so warm and unselfish. All my four days there I never heard a soul uttering forget a Bad Word, not even a sigh of irritation. They can be synonyms for Happy Face.

അഭിപ്രായമെഴുതുന്നവര്‍ ശ്രദ്ധിക്കേണ്ട ചില വസ്തുതകള്‍:
അസഭ്യങ്ങളും അധിക്ഷേപങ്ങളും പാടേ നിരസിക്കും. ഒന്നുകില്‍ ഇംഗ്ലീഷിലോ അല്ലെങ്കില്‍ മലയാളത്തിലോ വേണം അഭിപ്രായം. മംഗ്ലീഷ് വേണ്ട. മലയാളം ടൈപ്പ് ചെയ്യാന്‍ അറിയാത്തവര്‍ക്ക് ഇംഗ്ലീഷില്‍ ടൈപ്പ് ചെയ്ത് മലയാളമാക്കുന്നതിനുള്ള സംവിധാനം ഏര്‍പ്പെടുത്തിയിട്ടുണ്ട്. അത് ഉപയോഗപ്പെടുത്താം.