When yezdi was the king
Adventure Tourism/ Kakkayam

Yezdi club, Kozhikode recaptures the glory days when Yezdi was the rage and vroom into scenic Kakkayam.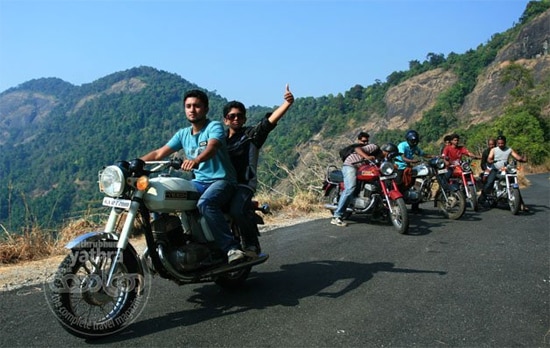 There were nine when we began our journey. The morning walkers were in wonder hearing the tup, tup tup sound of Yezdi in the silence of the morning roads. In their memory too, there was a time when these Yezdis ruled the roads like kings. Yezdi, with its vroom sound was a show in itself. The petrol tank also had a beauty of its own. The history says that when new generation 100 cc bikes with greater mileage began to rule the roads, Yezdi slowly slipped into oblivion with a bad mark as `petrol punter'.

But still people use to remember the kings who once ruled. Like wise there are still people here who adore this Jawa Yezdi bikes. According to them, Yezdis can't be ignored which once ruled with greater pride. The lovers point out the luxury of riding and its good pulling. These Yezdi bike lovers are showing their greater affection by enriching it with good quality parts and by attaching special parts. In many of the cities there are clubs for such Yezdi lovers and Kozhikode too owns a `Yezdi club'. For Mathrubhumi Yathra they were getting ready for journey to Kakkayam.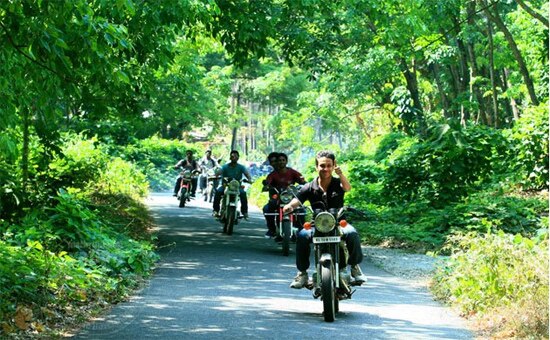 The quorum was filled when we reached Kunnamangalam after covering Medical College and Karanthoor. There were total of 13 Yezdis. The bus stand was almost empty so we claimed superiority in the place. Before beginning the journey, here needs an introduction of the team members

The most senior among the yezdis is owned by Dhanmahesh . He owns a Jawa which was imported from Czechoslovakia . A 1963 model, which costs Rs 2000 then. ``This Jawa was owned by my grandfather who was working as fisheries officer. After his time, I took control. Whenever any repair work comes, I use to do it on my own. 'Mahesh owns three other models too, 73, 94 and 79 . Two of them are not in good working condition and Im in search of spare parts for them,' he said.

Shameer is not only a Yezdi lover but he also owns Bharath motor near Fourth gate, Calicut. Bharath motor is knows as super specialty clinic of Yezdi. His Yezdi looked like one, which was out of the showroom only last day. It was 79-model glittering road king in silver shade. Shameer was also accompanied by Devan. He is his helper in workshop and is multi talented person.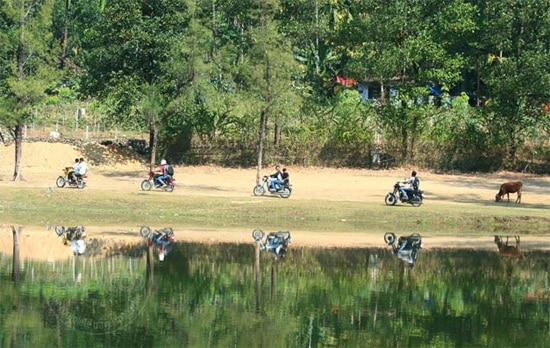 Rinku owns the Yezdi, which belong to final batch produced by the company. KL 11-7778. It took almost one and half years to give it a complete shape.

Businessman Thanseer owns handsome Yezdi in yellow colour. The Yezdi was given striking looks after incorporated with special parts from Mysore.

Jyasankar came with his father's bike. His father bought it when Jayasankar was three years old. Yezdi is part of his life from that day. Though his friends went in search of new generation bikes, Yezdi is still his favorite. Jayasankar has been studying in engineering college in Mangalore, and came to join us in Yezdi venture. In his college Yedzi is lone member but outside collage it's not, as Jayasankar is also member in Mangalore club with 45 members.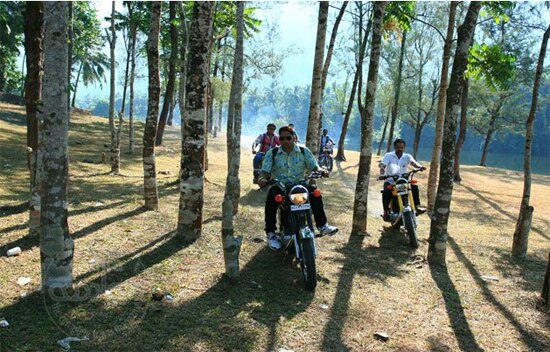 Harikrishnan is an advocate in Kozhikode bar. He owns 16 rare vehicles and among them also includes four Yezdis. He is one of the founder members of Yezdi club in Kozhikode. He was also accompanied by another advocate Jayaprashanth Babu.

Fahad was also part of the team, which formulated the club. His Yezdi is of 95 model.

Shajin came along with his brother Samprin Fahad. Though he is 7 th standard student, he too is a Yezdi lover. Shajin is BBA student at Bangalore. His Yezdi is in Bangalore so he took one from Harikrishnan.

Sudeep also came with Harikrishnan's yezdi. This graphic designer in search of a road king. Akhil is an engineering student also came with Hari's Yezdi.

Shemin who is medical representative bought the Yezdi just 6 months back. He bought it for Rs 12000 and spent an extra Rs 18,000 to make in it good condition. This is his first journey.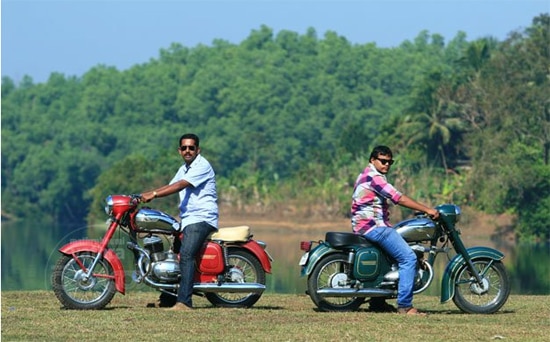 Deepu who owns Yezdi also knows the pulse of the bikes. Just looking at the number plate of Edwins yezdi, one can recognize its model, ie 1996. He bought it for Rs 20,000. But at present he is facing problem that the person who sold him the bike, is asking him to return it. !

We began our journey from Kunnamangalam at 7 am and went towards Thamarassery. We turned left from Chungam to Koyilandi road and reached estate junction, then reached Kariyathan rock via Thalayad. We went towards the beautiful lawn in the coast of serene pond. The bikes circled the area for a while and all the people there began to stare at the team hearing the tup tup sound.

Dhanamahesh is a bit adventurous. He is kalari maestro too. He took his bike to the pond to splash the water for the photographer. Though he planned to ride the bike in the water close to the shore, all his calculations went in drain as the bike slipped into a pit in the water. Bike was having huffs and puffs after consuming water. Though everyone pushed it back to the shore, the damage was already done. The bike was in silent mode as the carburetor and plug were wet completely. They dissembled each part and kept for drying. After reassembling, though Dhanamahesh tried very hard, the bike continued its silence. Later we abandoned the attempt and pushed the bike towards a home in the neighborhood and kept it in their courtyard with their permission.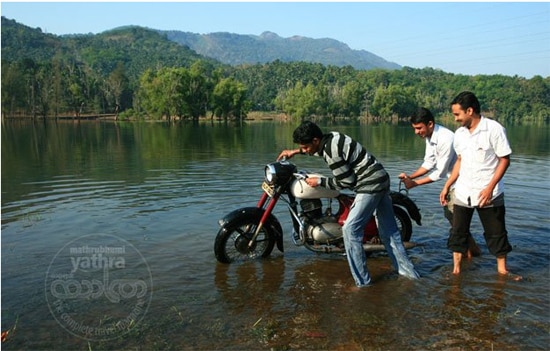 In spite of having grief to keep our `grandfather ' all alone in that house, we continued our journey. Our destination was Pappanchadikkuzhi. Its is at 2 km distance from Kariyathan rock. In one km distance, the road is tarred and the next one km it is completely in bad shape. But all the horses completed the journey without any jittery. In the right side of the road, we found river source full of rocks but water level was low. It's a treat to watch during monsoon season. Here the chance for monsoon tourism is high, said Binoy who came with us as guide.

Where the road ends, we halted our bikes and began trekking. We walked through the river shore to Pappanchadikuzhi covering some private land and beautiful locales decked up with rocks and palm trees. There was some construction work going on for resorts. Thomas who was looking after the construction said to us. ' We used to travel to Urakkuzhi and Wayanad through the way. But when forest department became more stringent, we stopped all that. 'He said the place is known for many rare species of Orchids. He said dancing girl is one among them. There the river was in full swing. The water was flowing to large pit through the gap of two large rocks, which were seen like forcibly separated by some one. It was a swimming pool shaped by the rocks. The water was chilling with cold. When had a dip, it was like a clear refreshment. One would not like to come back once they go and sit under the waterfall. Pappanchanchadi kuzhi became rage for everyone. There is tale behind the name Pappachanchady kuzhi. Pappachan who went for hunting along with group died in the river. Even his body was not traced yet.

After having the bath we resumed the journey to Kakkayam. From Kakkayam junction up to dam, the 14 km road is ghat pass. Its small road in dilapidated condition. During the construction of the dam, many of the workers and engineers used Yezdi. Andrews was waiting with lunch near a small waterfall in our way. Rice and chicken curry were brought as per the order. Photography is banned in dam site. Though via google earth each and every dam site is visible these days, still such security rules are applicable here.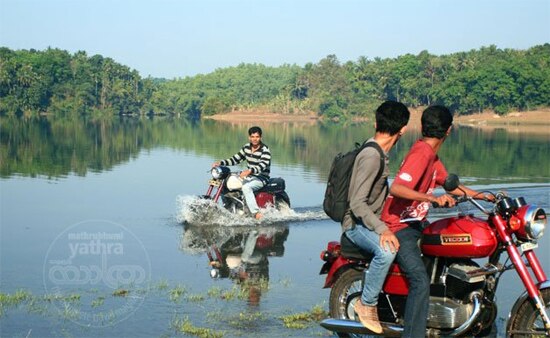 Urakkuzhi waterfall is famous sight here. This waterfall will convey many dark memories related to emergency period. Police killed Rajan, son of Eachara Warrier at Kakkayam camp. Natives stated that his body was disposed at Urakkuzhi. Another talk is that his body was cremated using sugar. We knew that his soul was somewhere here. Though a search was conducted with help of navy for his bod ythen, it went futile. Now there is statue of Rajan in Kakkyam junction. Our return journey was in winds lap. Yezdi brought us downwards with ease.

After having tea at Kakkayam junction we bid bye and went in our ways. Majority was towards Kozhikode. All were amazed at the experience they had. The Yezdis showed great performance through majority of which were lying idle for the last two years. Yes Yezdi again proved that its time had not ended. He will come again with his tup tup tup thunder to rule the roads.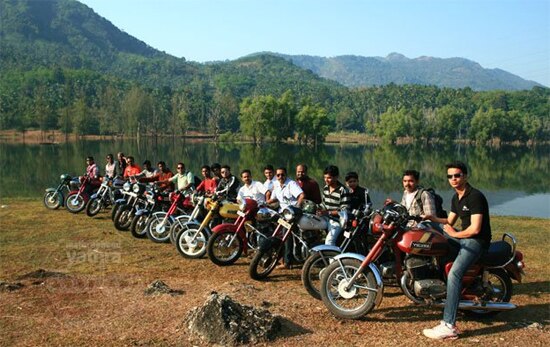 Java a.k.a. Yezdi


Apart from the motor cycle exports all over the world JAWA motor cycles began to be manufactured or assembled also outside Czechoslovakia. The largest project of production under license was realized in India. Initially JAWA motor cycles were just exported to the country agents at Delhi was the Baghwandas firm, in Bombay the Irani company. In the mid-fifties motor cycle imports were prohibited by the Government of India, permitted was, however, assembly of foreign machines by domestic engineering establishments. At that time the British Royal Enfield make has got a hold in the market, its motor cycles having been for years assembled in India. Former agent Rustom Irani decided to establish his own motor cycle production under license and following a market research chose JAWA.

And so at Mysore had grown up a new JAWA motor cycle assembly plant - involved were two-fifties and the Pioneer ultra-lightweights. It was on March 5, 1961, that the first motor cycle left the gate of the Ideal JAWA Mysore company's plant.The first manager of the factory was Rustom Irani's brother Faruk. JAWA motor cycles were made under their mark until the licence agreement had run out. Since then they were sold under the marque Yezdi, which is a transcription of the Czech language term 'jezdi' meaning 'going or running'.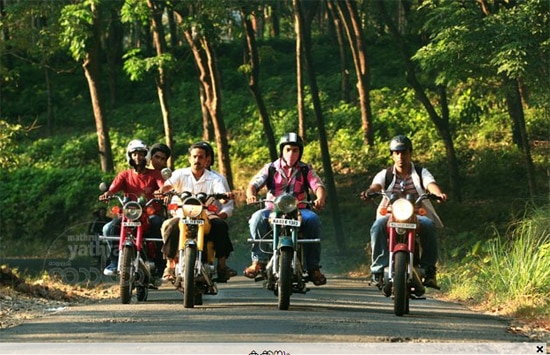 The logo 'For Ever Bike For Ever Value' very aptly signified the ideology behind the product.The market saw lot of new 100 cc bikes which were more fuel efficient and easy to ride. It was now that there was an aggressive entry into the domestic market by Japanese technology backed vehicles of 100cc category which were more fuel efficient, with sophisticated design, and state-of-the-art technology. Yedzi brought 17 models in the market.


Travel Info

Kakkayam


Kakkayam & Peruvannamoozhi, tourist locales in Kozhikode district, also fall under Malabar Wildlife Sanctuary.

Location: Malabar Wildlife Sanctuary (Kakkayam) is located in Chakkittappara and Koorachundu villages of Koyilandy Taluk in Kozhikode Dt. Sanctuary is spread across 74.22 sq. kms in three villages, including Kakkayam, Pannikottur reserve Forest Area of the Peruvannamoozhi range and Karapara.


How to Reach


By Air: Kozhikode-87km
By Rail: Kozhikode -67 Km
By Road:65Km from Kozhikode Bus stand.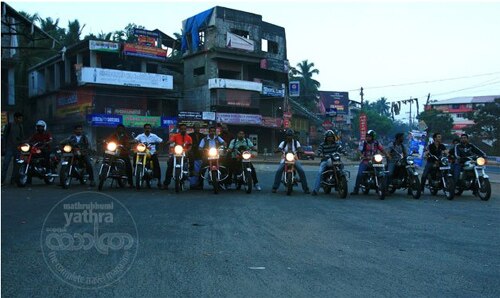 Best season: November to April, Monsoon june to july.

Sights Around: Kariyathanparaa, Pappanchadiya kuzhi Waterfall, Urakkuzhi Waterfalls, Kakkayam dam, Power House, Kakkayam valley, Ambalappara.

Contact: Vana samrakshna Samithi- 0496-2698147, 2698119, 9447384351, 9495176161

Koorachundu Police Station: 0496-266022
Forest Range Office: 2619014, Ticket Charge: 10


Text: G Jyothilal
Photos: P Jayesh
Translation: Shamila KY

Tags :