Trekking in Brahmagiri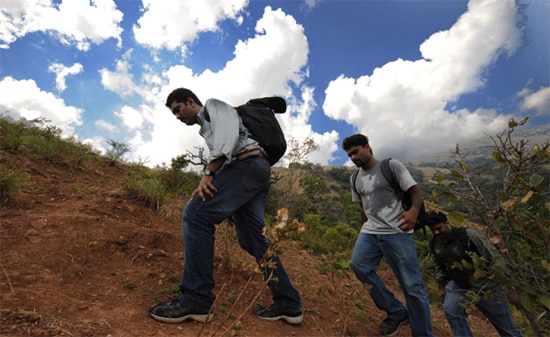 Trekking from Thirunelli to Aralam sanctuary via Amabalappara.


Straddling the Wayanad-Coorg border, experience the thrill of trekking along trails yawning onto treacherous ravines, a trap for the misguided.

Tirunelli Temple is an ancient temple dedicated to Lord Vishnu on the side of Brahmagiri hill in Kerala. Papanasini emanating from the heart of Brahmagiri is a holy mountain stream accessible north west of the temple premises. One dip in the cold Papanasini waters is reputed to wash away all sins committed in a lifetime. The way of sins and virtues ends there, but the path of travelers never ends there. It is extended to the Brahmagiri mountain ranges with various green hillocks inter spread with

small forest where streams flows. This path which proceeds through the Tirunelli forest has many strories to tell and one among them is the death of Naxal Varghese, who was allegedly gunned down by police at Tirunelli forests.

Bu the range offcier spoke about the wildness of the forest as these areas is the only one division where tropical white evergreen forest exists. The vegetation in the low-lying areas is predominantly evergreen shola grasslands, which cover the higher altitudes. The undulating terrain is dotted with several steep valleys and hillocks, and in this sanctuary, eight rivers and streams originate. The hill is abundant in all kinds of rare flora and fauna.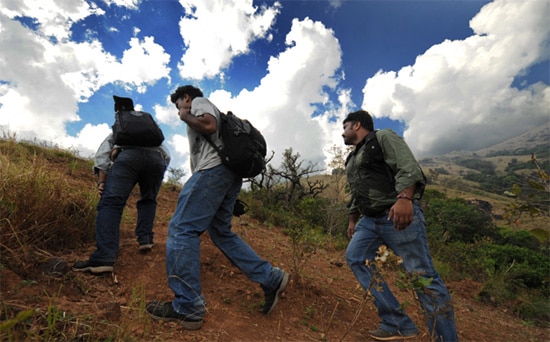 Such special description on the hills encouraged us for a journey via Brahmagiri to Aralam wild life sanctuary. The journey through Begoor, Kottiyoor and Aralam will take two days to complete. Special permission of forest department is needed.

Apart from Anoop, forest ranger, watchers accompanied us from Kottiyoor range Biju, Balan and Narayanankutty. Three young doctors were also with us Dr Dileep, Dr Shubin and Dr Rejith and and all of them are in government services.

The trekking path to Brahmagiri begins near IB of Tirunelli forest. We began journey by packing the food for two days. Tirunelli, which is in the Begoor division possess a number of streams so the water is frosty even during noon.

The wild path ended at Pulmedu. The beauty of these mountains is clearly visible from this spot. These ranges and rivulets are the hub of elephants. While climbing the hill one can spot the Tirunelli temple in distance. After one hour of trekking we reached near a watch tower.

The tower has approximately 35-meter height. While climbing up stairs, the wind played with your balance. It looked pretty tall and did offer a good view of the surroundings. Our first halt was at Amabalappara, which is the highest peak in Aralam sanctuary and its height is is 1540 meters. There is also forest watchtower, which is in Aralam range.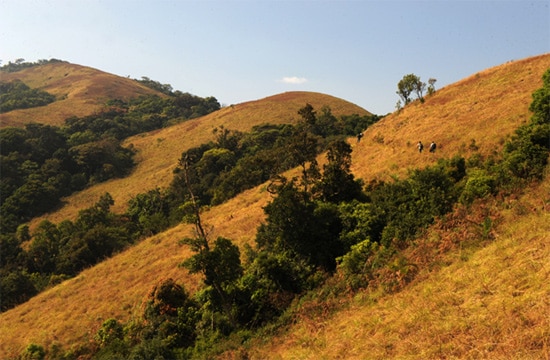 While moving onwards Amabalappara after seeing watchtower, we saw the remnants of a British bungalow. The British came here on horse and the main goal was hunting. Here Kerala borders with Karnataka and other side is Kodagu. The journey will continue through the borders. There are patch of red flowers named Cleodendron Nilgirica. Here one can also see the rare dwarf rosewood and also the Strobilanthus Speciosa.

We covered Pakshipathalam . After covering the hill we reached a ground like place. The path that followed this was somewhat a flat terrain going around a hill. We turned left towards Ambalappara and reached Pancharthodu and filled the bottles with water.

There is place, which is the pathway of wild elephants, and we had to cover that to reach Ambalappara. Our watcher Balan asked us to speed up, as we have to cover the area before night.

There are shola forests and after the meadows we crossed the forest in five minutes. Soon we reached Amabalappara. We proceeded towards the watchtower, which situated in the beginning of another wild forest. There were four pillars and a room above it. We had food prepared by Narayanankutty and Balan and it tasted great.


Then all went to catch sleep and some were successful in their mission and others were not. They went to see the beauty of the forest in dark. The chilly breeze awakened everyone in the morning and after having some yoga practices as instructed by range officer, every one had coffee prepared by Biju. Bathed in the stream near by and breakfast was ready by then. Our next destination is Aralam wild life sanctuary for which we have to trek through thick forest. The watchers need only five hours but the maiden travelers require more time.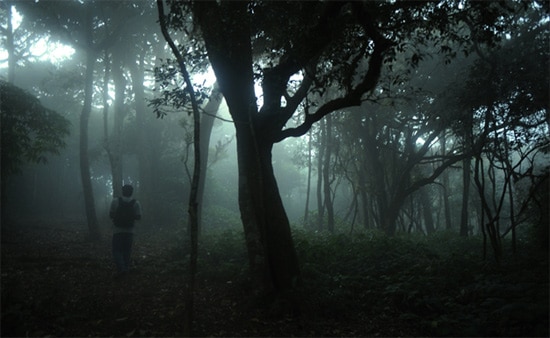 We started our journey at 10.35 am. Our plan was to move ahead via Kottiyoor. Watcher said that road might be closed. So we made plan to reach wild life office by 4 pm through Chavachi section in Aralam section covering the Adakkathodu village.

The path from Tirunelli to Ambalappara was steep high but here we have to climb down the hill. There are no green patches and was proceeding through thick forest. We proceeded through crammed pathways. Though one and half passed hours since we started the walk, it was unending. The sunlight seemed reluctant to come to the spot. In between leeches began attack and cleaned up couple of leeches from our shoes. There were many and we were bitten all over. The mobile made some beep

sounds and we sighed in relief for getting range for mobile here.

We relaxed for some time in Thottinkara and munched some snacks. We walked for many hours and the time was 4.30. The watchers who were walking in front of us suddenly stopped and there were tension in their face. Yes we lost the way .We took the mobile and the message was `Dear subscriber, Welcome to BSNL Mobile Karnataka. Have pleasant stay. While roaming tour all incoming calls are also chargeable'… the message cane at 11.38 am and we were walking through the Karnataka

forest.

The morale of the story, never neglect the messages even in jungle'. It was assumed that we were standing in Kodagu forest area. The watchers from Kottiyoor range are not well versed with Aralam range. When called Aralam sanctuary they didn't have any idea where we were standing too. After walking along the left way for hours and so many hours of struggling, with the help of messages from Aaralam we were able to reach the right path. After covering the rough paths and steep downhill we reached Adakkathodu section and we were given direction to continue in that route. After one hour of trek we heard the sound of gushing river. We began to see the hints of villages. We walked towards the river, the river is Cheenkannipuzha. Cheenkannipuzha originates from Brahmagiri , flows through Karnataka forest , joins with Bavali river and becomes Valapattnam river. It is the lifeline of Aralam wild life sanctuary.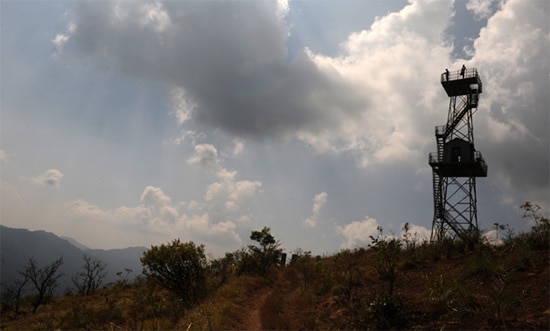 There is bridge to cross the river. The sun began to set and forest changed its colour and there were only darkness. When we crossed a bend, there was light and that was Chavachi section office of Aralam forest. The office works in solar energy and we charged the mobile batteries. Everyone bathed in the river.

In the other side of the river is Ramachi village and there a jeep awaited us. We went to the jeep crossing the hanging bridge and agricultural plantations with help of torchlight. The jeep carried us to the wild life office in 11 km distance. We received warm welcome there and good food. When we were moving towards the end of the journey, Dipin asked, when is the next trip. Yes such trips are thrilling, once you taste it, the longing will continue.


Travel Info


Location: Brahmagiri is a mountain range in the Western Ghats with an average height of 1600-1800 mts. It is situated on the border between Kodagu district (Karnataka ) in the north and Wayanad and Kannur districts of Kerala on the south and east. Brahmagiri hill, at 1608 m height, is a scenic tourist attraction. To reach the peak, the base station is Gonikuppa near Virajpetta in Kodagu.

Ambalappra: A rocky area in the middle of the evergreen forest in Aralam wild life sanctuary and the highest point of the sanctuary (1540 m). It is the most beautiful area of this sanctuary and the toughest to reach. A watch tower provides simple accommodation, wildlife here is endemic to Western ghats, including elephants, Tiger, sambhar, Leopard, Wild gaur, Rodents, Wild Dog, Fox etc. Celylon Frogmouth, Hornbill, Emerald Doves, Shama, Crimson Barbet are some of the birds found here.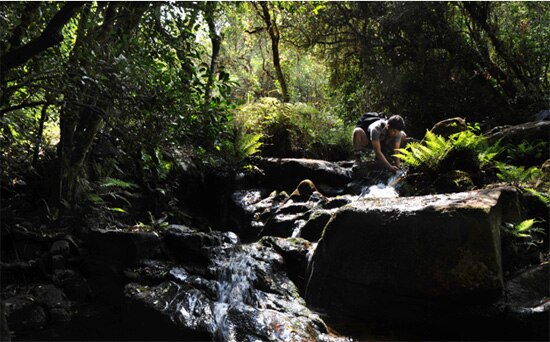 How to reach


Starting point

Tirunelli, 124 km from Kozhikode, 111 kms from Thalassery

By road: Kozhikode-Kalpetta-Mananthavady-Kattikkulam-Thirunelli, Thalassery, Kuthuparampa, Nedumpoil, Mananthavady, Kattikkulam-Thirunelli.

By rail: Thalassery-0490 2344131.

Airport: Karippur, Kozhikode:148 km.


Route:


Trekking from Tirunelli to Ambalappara is a 6-hour journey. Trekking path is adventures that cover three forest rangers, Begur, Kottiyoor and Aralam. Vegetation ranged from hard rocky terrain, and grassland to wet tropical evergreen climate forest and shola forest. Halt at Ambalappara.

From Ambalappara to Aralam, the route is more thrilling. 8 hours journey to the destination through thick forest bordering Karnataka and Kerala.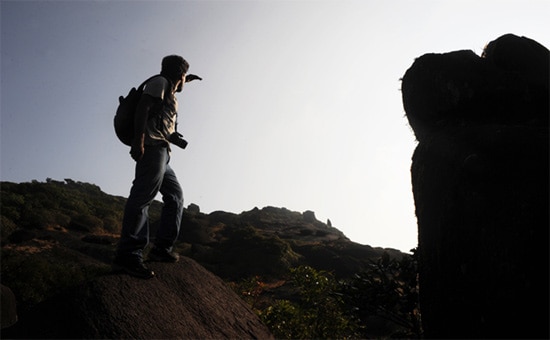 Best season:


December to April

For enquiry and permission

DFOP north Wayanad-04935 240233. 9447979074.
For stay at Tirunelli dormitory, contact Begur range office: 04935 240627.
Aralam wildlife sanctuary:0490 2413160.


Travel Info


Surroundings

From Tirunelli to Aralam trekking route, the places, which can be visited, are Tholpetti, Pakshipathalam and Amablappara. Pakshipathalam situates at 7 km distance from Tirunelli and to reach Ambalappara from there itwneeds walk for 10 kms. There is 14 km distance from Ambalappara to Aralam wildlife sanctuary.


Text: K Sajeevan
Photos: Madhuraj
Translation: Shamila KY
Tags :