A trip to westernghats
Manav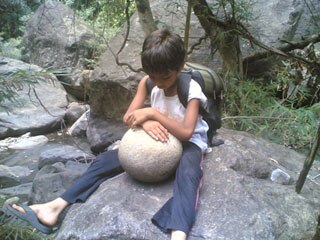 My name is manav. I am 8 years old. I like to climb up hills. And I like trekking. This write-up is about a journey to vellarimala. It was in April 2009. Our plan was to start from nilambur, malappuram district, truck to vellarimala of wyanad district and 3rd day climb down to anakkampoyil, calicut district. Sajan (my papa) was the organizer of the trip. There were 13 members including me. On april 10th, we all gathered at 'chandrakantham' camp shed of Nature Education Center(NEC), nilambur. Jayaprakash uncle of NEC was there to welcome us. He gave us some good advices about travaling in the forest.. He was not coming with us because of some personal affairs. He was really sorry for that.

Our starting from Nilambur On 11th we all started from chandrakantham at 7.30. we reached at 'adyanpara' waterfalls by 9. from this point, we started trekking. I was so thrilled because this was my first overnight trip to forest. We advanced through the little stream. It was really tuff to walk through big rocks. At noon we had a short rest and had our lunch. It was bread, coconuts, dates and honey. Some had some pickles too. After lunch, we started again towards the origin of the stream. We were told that this stream originates from vellarimala. By evening, we reached another fall called meenmutty. We traveled half a kilometer more and found a beautiful cave in which we decided to spend night. My first night in a cave...Anand, a member of NEC was accompanying us as a guide up to this point. Our plan had 3 stages. From nilambur to meenmutty falls anand would guide us. Next stage is from meenmutty to vellarimala. For this stage there was no guide. We had to find out our way. And third day from vellarimala, my papa would guide us because he had already trekked by that way more than 20 times.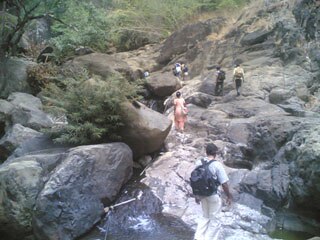 When we were resting in the cave, anand showed us some fresh droppings of a bear. I had a little fear in my mind. We collected some firewood and made fire to keep wild animals away. Anitha aunty started cooking kattukanji, which was very tasty. After having a fullbelly supper, I slept well my first night in the cave, hugging my papa. Second day in the forest Next day, after having breakfast with flattened rice, coconut and dates, we started. We walked through the stream for one or two hours, and then entered the thick forest. We saw so many droppings of elephants all over there. I decided to collect some to present my mama. Now we were climbing a steep through thick forest. Soil was too loose so that most of us slipped and fell down many times. Then we reached a grass land. It was more difficult to climb because the grass were too thick and high. Sometimes it was higher than me. Then again a thick forest. We all thought that it was the top of the mountain. Papa tried to find out his familiar landmarks of vellarimala, but failed. Then he tried to find out the exact location by watching the shapes. But unfortunately we couldn't watch any shape of the neighboring mountains because of thick fog and clouds.

After climbing some more time, one of our phones became in range. We could contact jayaprakas. He said that we are in correct rout and we had to climb up again. We were facing a problem. We had very little water with us. Our thirst was horrible. Papa promised us that we could get enough water on the top of vellarimala. Now we were climbing through a grass land again. This grass had burned recently. Some careless people's mistake! One or two hours we climbed through the burned grass. Our skin and dresses were full of charcoal. Then again we entered a thick forest. Papa told me we almost reached the top. I was eager to see masthakam. Clouds and grassland At last we came out of the forest. But unfortunately it was again steep grassland. The fog became thicker. We couldn't see anything beyond ten meters. The only thing we had to do was to climb up because we would only get the water at the top. This grass had not burned and was very thick. The hill was too steep. We all became tired and thirsty. I had a little water in my bottle. I shared it with papa. Papa had hardly a mouthful.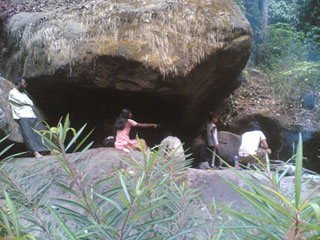 We were in a thick cloud which was moving very fast. When the atmosphere became a bit clear, we could see the top far far high. Papa could not recognize which part of vellarimala was it. After half a minute, another cloud covered us. It was a great experience. But we were not in the mood of enjoying it. I began to cry and papa tried to console me. We two were the slowest in the grassland. I didn't knew how much time we climbed through the steep. It was becoming dark. And we didn't reach anywhere. In that steep I found we two were alone. A great fear came into me. I cried loudly. Papa did not say anything for sometime. Then he began to encourage me to climb. We moved up half an hour more. In the dim light I saw the dark figures of our companions sitting and lying in the grass. They were not only waiting for us. They were too tired to climb. I too fell into the grass and closed my eyes. A night without water, fire or food Sooraj uncle was the most tired one. He began to vomit. Papa said vomiting is the most dangerous in this situation because of scarcity of water.

Hamid uncle had another tragedy. He had got lost his spectacles. After some rest, Sarath uncle and anand uncle got up and went in search of water. They were having torch lights. But they came back soon without water. They said they could find no water, but some animal in the forest. They thought it was a wild dog. I was half asleep when they came back and I tried to believe it was only a dream. Papa had told me enough about wild dogs which is the cruelest animal in the forest. I hugged tightly my papa and tried to sleep. Shaji uncle and saboor uncle were trying to send some sos message through their mobile phone. I thought they would succeed and a helicopter would come to rescue us. But they couldn't send the message because we were completely out of range. All of us were lying on the grass with dry mouths and throats. We couldn't make a campfire or collect some firewood. Our instant food materials were almost finished and we couldn't cook anything without fire or water. I ate one or two dates which increased the thirst. Papa told me later that he was thinking about death that night. Death without water or death by the attack of a pack of wild dogs, or a leopard or a tiger… that may be why he hugged me so tightly. I was thinking about my mama and two year old sister that time. What would be they doing that time? Would they be asleep? The tastiest drink in our life During the midnight, I was awoken by some sounds. I heard my papa and some other one talking. They were trying to spread some plastic sheets on the grass.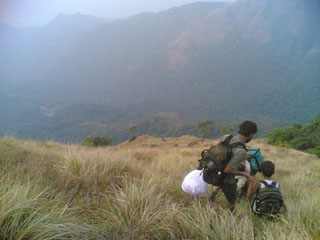 First I couldn't understand what they were doing. A raindrop fell on my face. Papa came and spread a sheet over me too. They were trying to collect raindrops. But it was only a weak drizzle. After half an hour or one, we collected some water. Each of us had a mouthful of water. It had a bad taste of plastic. But for us it was the tastiest drink in our life. After a dead sleep, we woke up in the morning. There were no clouds or fog. Everything was clear colorful. Papa stood up and looked at the mountains. He was sill in the confusion. We were almost on the top of a peak. Rest of the peak was impossible to climb up. It was a steep rock which projected abruptly from the grassland. Papa said that it was not vellarimala, but may be vavul mala which is next peak to vellarimala, and higher than it. Going back without reaching the goal. We decided to climb down as soon as possible to the stream and get water. But climbing down was more difficult. Sooraj uncle was the most tired. It was not the same way which we climbed up.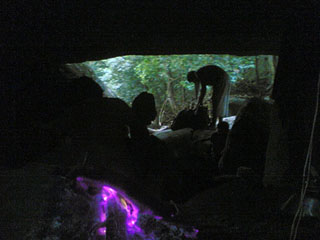 After a couple of hours of climbing down through the grassland, we entered the thick forest. We followed a gully in hope of finding water. Soon we found some muddy water. We hopefully walked for half an hour more. Our gully became narrow stream wchich gave us clear water. We unloaded our rucksacks there and drank enough water. We had another luck. there were blackberries in the forest. I never tasted such a sweet ones before. we ate them and kept the seeds for our Attapadi Estate. We decided to cook there. When anitha aunty were cooking kanji, some one found a green jackfruit in the jungle. She made a delitious side dish with it too. All of us filled our bellies quickly. According to our plan, we had to get out of the forest by this time. But it may take one more day because we were going back.

Sooraj uncle was not well. He began to vomit again soon after lunch. He was too tired to walk. We walked half an hour more and reached the main stream again. But this was not the area which we covered previous day. We were very slow. Another cave to spend a sleepless night By sunset, we reached another cave. It was bigger but not comfortable as the first one. Anyhow we decided to stay there. I couldn't sleep well because our 'bed' was not comfortable. Sooraj uncle was vomiting many times. Next morning hari uncle who was a homoeo doctor, gave him some medicines. Saboor uncle, habeeb uncle and shaji uncle made a stretcher off some poles and a bedsheet to carry him. This gave a big comfort to sooraj uncle but it was a hard task to carry a stretcher through the rocks of the stream. So we decided to go through th forest. It was also very difficult. Jiju uncle was documenting all with his digital camera. On the way we met some tribal people who gave us pure wild honey. i filled my bottle with honey. they guided us to \'adyanpara\'. By four o clock, we reached 'adyanpara' falls. Jayaprakash uncle was waiting there. We all were tired. But everyone had enjoyed the trip. \'When is our next trip?\' Yaser uncle was asking to my papa while we were waiting for bus.

Tags :