La La Leh-Ladakh
Text&Photos: Soumya Rajan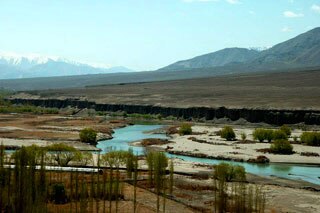 Leh Ladakh- I went, saw and stood conquered...

Boarding an early morning flight has never been a pleasant experience, but today I am more than awake at 3.00 am waiting for my alarm clock to ring. Its 8th May 2012 and I am en-route to the dream destination of many 'Leh- Ladakh' albeit for official reasons. I have fancied this idea for quite sometime and here I am all set with 2 pairs of jacket, goggles, sun screen, scarfs, a roll of cotton to plug my ears and loads of essentials as recommended by experienced friends.

The flight from Mumbai to Leh halted at Delhi and soon proceeded its onward course to Leh slowly and steadily beating the heavy winds. We thus climbed the altitude of many 1000s of feet soon leaving behind the familiar temperatures and weather conditions. The hill tops seemed sprinkled with white dust unevenly, much like what results from the pranks of a little boy. Very many peaks of the mighty Himalayas appeared just a breath away, all beautifully snow clad. Finally as the pilot announced our arrival at Leh, I couldn't help but grin from ear to ear at the otherwise suave crowd around. As we stepped out, the only sight around was endless stretch of mountains flaunting their snow-clad blankets glistening in the morning sun. It seemed like a welcome from the heaven above, which at such heights feel closer, when the first whiff of Ladakhi breeze played with my curled tresses.

The transition from sea level at Mumbai to 11,000 feet altitude started to play its magic on all tourists as some started feeling fatigued, some complained of a splitting headache and some like me nauseated. However its LEH and we ventured out which according to Leh- Travelers Bible was a NO NO on your day of arrival.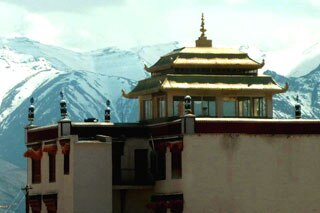 This little town of Leh is adorned with remnants of Buddhism as you take a walk through the main streets. The market place and the street corners, all give way to a set of Buddhist Prayer wheels which u can just push gently and let the prayer rolls inside invoke the almighty. I did buy a small one out of curiosity and have stored her like a treasure. The people whether the sweet meat vendors or the Tibetan handicraft sellers are so amiable and warm as against the spine chilling cold Ladakh.

Apricots and Walnuts were aplenty as like military vans and Armed soldiers. Momos and Tibetan delicacies like Rhucotse, Fuyong, tingmo and kothey were lip smacking even as maggie noodles ruled the roost by almost being omnipresent throughout the trip. If we need to enjoy or in better terms survive the extreme conditions of this cold desert, the mantra is to sleep well for atleast 24 hours on arrival, which I dint do. So I faced the music the next few days. WARNING: PLEASE SLEEP... LEH ALLURES BUT NEVER MIND TURN OVER AND SLEEP.

A visit to Santi Stupa was my first rendezvous with Lord Budha. The Stupa which overlooked the town of Leh almost symbolically expressed the influence of this prince turned spiritual leader over each and every nuance of a Ladakhi.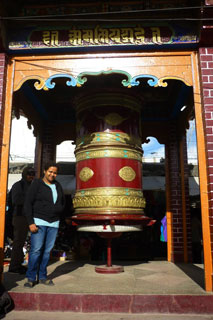 'Ju-Ley' was how they said Hello, Bye, oftentimes Okay and its the kind of unique identity of a Ladakhi. Another common sight is that of Monasteries with their beautiful aesthetics, seen at every village and every settlement in the region wherein the religious leaders preached and enlightened the community.

While remembering Ladakh, I must mention this experience I had with our driver Liyaquat one evening. We were driving back to the guest house and it was almost getting dark. I started noticing that the driver is not switching on the head lights and driving his vehicle. I got a little uncomfortable and was about to ask him to switch them on, soon I noticed that he simply switched them on and dipped for a second when vehicle from opposite side came close. Alarmed and hoping that he would have an explanation for this too, I asked him as to why he was risking my life and that of others. His reply would have earned him my gold chain of 5 sovereigns had I been a rich king visiting people. He said ' Madam, how can we be selfish here? Its getting dark and the driver on the otherside would find it more difficult to see the road with my blinding headlights'. I soon went on a trance thinking of how smooth 'Sion- Panvel Highway' would have been with this Ladakhi principle in place. Its Buddhism I guess which has made people so warm and unselfish. All my four days there I never heard a soul uttering forget a Bad Word, not even a sigh of irritation. They can be synonyms for Happy Face.

++++++++++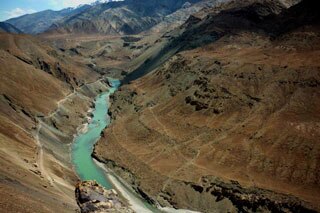 When we try to delve into the family structure and life of a Ladakhi, its almost an ideal family life that they portray with equal participation of men and women in household chores as like any other hill community. I happened to ask a lady during an interaction to understand the impact of one of the initiatives of my organization as to what were the problems women in particular had to face at the aftermath of the flash floods in Leh Ladakh in August 2010. The lady who was vocal till then had no answer as she simply couldn't figure out what uniquely she did which her husband or men in general did not do to upkeep the family.

While travelling to Pangong Tso (Tso, as they call it, means a lake) I faced that strange helplessness that happens when our body reacts to abrupt change in altitude. Beginning with a mild headache, it aggravated to nausea and sometimes leading to break down of sensations during the journey. The altitude increased slowly from 11,000 feet to 14,000 and then to 17,586 feet at Chang La en route to Pangong. And after twists and turns we almost reached a level ground soon to be followed by the magnificent sight of the stretch of blue waters which helped me almost instantly forget what I just went through to reach there. This reminded me of anecdotes of one of my friends who said she forgot her labour pain when she saw her new born babe. And Yes we reached the Pangong Tso situated at a height of 14,500 feet and considered to be one of the largest salt water lakes in Asia. 1/3 of this beautiful water body is with India and the remaining with Tibet. It might be the odyssey I had to undertake to reach this place that makes it so memorable.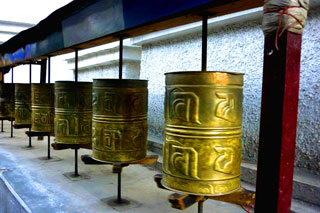 The colors of the lake seemed dubious as they moved from a pale green to dark blue and sometimes simply crystal clear. Home to many a birds like ducks and gulls, this enchanting landscape was so incomparable to any other mountain side lake I would have seen. Wonder how such a huge stretch of water is held by these mountains at such a height and I cannot help but definitely say that our Master Creator truly is an architect of sorts. Isn't it the splendor, the might and oftentimes the fury of nature that reminds us of the inevitable Almighty?

The Military station enroute to Pongong serves as a reminder for the fact that we are in the Indo China border and probably one of the most tense borders of India. We could see Tibet so close yet the hearts lie so far. There are these aphorisms placed equidistant from each other on milestones erected by Border Roads Organization (BRO) which attracted my attention. Some of them were 'Always remember God', 'All will wait, better be late' so on and so forth. These boards served to keep us awake as well as tested the memory by repeating itself in a while. My trip back to Leh was equally adventurous but better as I was zero nauseated, thanks to the oxygen cylinders at the Military post at Pangong which were served to me graciously by some dear Jawans. Every puff I took made me feel truly at the heaven above, 'Dear Lord, I can feel my hands and legs again'. A good Samaritan, a Doctor aunty seeing me pale advised to take energy bars and handed over to me loads of Cadbury fruit n nut. This really did wonders to my nerves and a mouthful of sugar was also considered a good idea.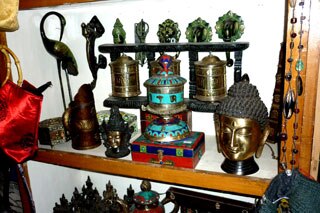 We saw the setting sun as she gleamed through the snow which now started falling at heights as we drew close to evening. The roads started to die into oblivion as the tarred spaces wore a thick blanket of ice. The drivers definitely deserve a warm hug as they at times amaze you by remembering each deadly twist and turn amidst the dark icy pathway in this terrain. Some places often have no road or they just carry remnants of one that showed safety to many a traveler. It was like a revision of landscape and this time for me with much more clarity than the upward journey. We went past the icy highways, some remote villages, few military stations, many monasteries and finally hit the NH1, Oh! I still can feel the excitement when I first saw NH1 imprinted on a hoarding. The now familiar poplars and willows have come to view and the lovely day ended beautifully.

At one glance Ladakh appears to be a complete desert but you definitely cannot help but notice the very many colours of Indus as she climbs down the valley or winds through them during her course; the hues that change at the Pangong Tso; the wild ass (Kyang) which gets often camouflaged in the landscape and the marmots (pheya) which peep out of its comfort zones to excite the travelers. Leh Ladakh has more than what meets the eye and all that I can wish you is 'Do visit Leh, but with all necessary preparations in place'.



Tags :