Kottayam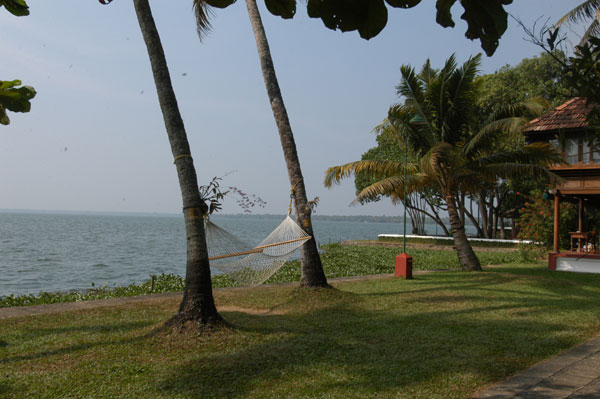 Bordered by the lofty and mighty Western Ghats on the east and the Vembanad Lake and paddy fields of Kuttanad on the west, Kottayam is a land of unique characteristics.
Panoramic backwater stretches, lush paddy fields, highlands, hills and hillocks, extensive rubber plantations, places associated with many legends and a totally literate people have given Kottayam District the enviable title: The land of letters, legends, latex and lakes. Kottayam Town is the first town in India to have achieved 100% literacy (a remarkable feat achieved as early as in 1989).

English education in South India did actually start at the Old Seminary here at Kottayam in 1813. The first printing press in Kerala was established (CMS Press) here in 1821 by Rev.Benjamin Baily. The first college in the State (CMS College) was also started here at Kottayam in 1840. Maiden printed Malayalam-English and English-Malayalam Dictionaries were published from Kottayam in 1846 and 1847 respectively. The first and only Cooperative Society of writers, authors and publishers (SPCS), for publishing books and periodicals was set up here in 1945. Kottayam is the hometown of a vast number of books and periodicals and is the center of publishing business in the State. Kottayam is the first town in India selected by the Ministry of Environment and Forests, Government of India to be transformed as an Eco City.


Location


Positioned a little south to central Kerala, Kottayam district is bordered on the north by Ernakulam district, on the east by Idukki district and on the south by Alappuzha and Pathanamthitta districts. The Vembanad Lake forms the western boundary. Kottayam lies between latitude 9o 15' and 10o 21' and longitude 76o 22' and 77o 25'.


Geography


Kottayam district has a total area of 2208 sq. km. The district is naturally divided into high land, midland and lowland, the bulk being constituted by the midland regions. Meenachil and Kanjirappally Taluks have high land and midland areas while Kottayam, Changanassery and Vaikom Taluks have midland and lowland areas. Kanjirappally and Meenachil Taluks have Laterite soil, where as Vaikom Taluk, part of Changanassery and Kottayam Taluks have Aluvial soil. The district has no coastal area.


Rivers


The important rivers of the district are the Meenachil River, the Muvattupuzha River and the Manimala River. The 78 km. long Meenachil River flows through the Taluks of Meenachil, Vaikom and Kottayam. It has a catchment area of 1272 km2 and utilizable water resource of 1110 mm3. The River is formed by several streams originating from the Western Ghats in Idukki district. At Erattupetta, Poonjar River also joins it, takes a sharp turn and flows towards the west. At Kondur, it is joined by the Chittar and at Lalam it receives the Payapparathodu and flows in a south-west direction till it reaches Kottayam. Here it branches into several streams before emptying into the Vembanad Lake. The important towns in the basin are Pala, Poonjar, Ettumanoor and Kottayam. Meenachil Medium Irrigation project is having a net ayacut of 9960 hectares, 155 sq.km. catchment area and a water spread area of 228 hectares.

The Muvattupuzha River originates from Idukki district, flows through Vaikom Taluk and empties into the Vembanad Lake. The most important town in the basin is Vaikom, the famous pilgrim centre.

The Manimala River flows through Kanjirappally and Changanassery Taluks. The Chittar joins it on its course further down the west as it flows to Alappuzha district. The important town in the basin is Mundakkayam.


Accessing Kottayam


Telephone Access code : ++91- 481

Air : Nearest Air Port: Nedumbassery, Kochi (90 Km)
Thiruvananthapuram (160 Km)

Rail : Railway Station Kottayam.(Enquiry : 2563535,2567360,2567491)

Road : KSRTC, Kottayam (Enquiry : 2562908) , Changanassery (2421824) , Pala (04822-222711) , Vaikom (04829-221210) , Erattupetta (2272230) ,Ponkunnam(04828-221333)


Climate


The district has a tropical climate with an oppressive hot season in the plains and plenty of rainfalls throughout. The hot season from March to May, is followed by the south-west monsoon from June to September. The months of October and November constitute the post-monsoon or retreating monsoon season, when day temperature increases gradually and the heat is nearly as intense as in summer. The months of December to February form the north - east monsoon. Rain ceases early in January. The district normally gets an annual average rain fall of 3130.33mm.


Roads


Highway Name of the Road Passing Through
SH-1 MC Road Changanassery, Kottayam, Ettumanoor, Kuravilangadu
SH-9 Kottayam-Kozhencherry road Puthuppally, Karukachal, Mallappally
NH-220 Kottayam - Kumali Road Pampady, Ponkunnam, Mundakkayam
SH-32 Ettumanoor- Erattupetta Pala
SH-14 Erattupetta- Peerumedu Theekoy , Wagamon
SH-15 Ettumanoor - Ernakulam Kuruppamthara, Kaduthuruthy, Vaikom
SH -11 Changanassery - Alappuzha Perunna, Kidangara


Railway Stations


Changanassery
Chingavanam
Kottayam
Ettumanoor
Kuruppanthara
Vaikom Road
Piravam Road


Major Attractions

KUMARAKOM


Kumarakom gained national and international importance with the visit of the Hon'ble Prime minister A.B. Vajpayee in 2000 December.

Kumarakom is a small village 14km. west of Kottayam. It is a part of Kuttanad, which is a ' wonder land ', lying below sea level, comprising of a number of islands, in the back waters. Kumarakom Village covers an area of 5166 Ha of which 2413Ha is lake portion, 1500Ha is paddy fields and the remaining portion of 1253 Ha is dry land. Kumarakom is an unbelievably beautiful paradise of mangrove forests, emerald green paddy fields and coconut groves interpersed with enchanting waterways and canals adorned with white lilies. Situated on the Vembanad Lake, this small water world has plenty of traditional country boats, crafts and canoes which will take you in to the heart of scenic Kerala. The resorts near by offer comfortable accomodation and exclusive leisure options like Ayurvedic massages, Yoga and meditation besides boating, fishing, angling and swimming.

In the last Century, Henry Baker, an English man, attracted by the beauty of the place, selected Kumarakom as his residence and built a bungalow, obtaining 104 acres of land from the then Maharaja of Travancore. He also made a beautiful garden. Preserving the old style, the beautiful bungalow of Baker has now been modified into the Taj Garden Retreat, a hotel with modern living facilities. The Kerala State Tourism Development Corporation is converting this place into a Tourist Complex. K.T.D.C. has constructed A.C. Cottages here and it runs a floating restaurant. The Corporation also provides boating facilities. Coconut lagoon is a beautiful resort here.


VEMBANAD LAKE


Kottayam has a vast nertwork of rivers and canals, which empty into the great expanse of water called the Vembanad Lake, a fast developing backwater tourism destination. Vembanad Lake is having 83.72km. length and 14.48km. Width. Traditional Cargo boats called Kettuvallams are modified into Cruise boats and House boats, with all basic facilities like kitchen, toilet, bathrooms, sit outs etc. These boats gracefully move around the back waters, providing facilities to tourist to enjoy the beauty of the Vembanad Lake in a relaxed pace. The Kumarakom tourist village offers house boat cruises and holiday packages.

In the Vembanad Lake there is a small beautiful island called Pathiramanal or the Midnight sands. This lonely island in the Vemabanad Lake is accessible only by boat.


Boat Races


In the festive months of August and September, the rivers in and near Kottayam are turned into festival centres. The serene lakes come alive during Onam with a spectacular water regatta - the snake boat races. It is amazing to watch oarsmen, at least a hundred in one boat, slice their way through the waters to the fast rhythm of their own full throated singing. In the Kumarakom boat race conducted at Kavanar and Kottathodu rivers, about 50 types of boats viz veppu, ody, churulan and few snake boats participate.


BIRD SANCTUARY


An attraction of Kumarakom is the Bird sanctuary spreading over 14 acres of land. Located on the banks of the Vembanad Lake, the sanctuary is a favourite haunt of migratory birds like the Siberian Stork, egret, darter, heron and teal. Local birds like the water fowl, cuckoo, owl and water hen, other common varieties like the wood pecker, sky lark, crane and parrots can also be spotted here. 91 Species of local 50 species of migratory birds are found here. The best time to bird watch is June-August and migratory birds during November-February. A cruise along the Vembanad Lake is the best way to experience the sanctuary.

House Boats and motorboats are available on hire for bird watching cruises in the Lake.


ELAVEEZHAPOONCHIRA


Elaveezha poonchira, a hill station near Melukavu Mattom, 60kms from Kottayam is gaining tourist importance.

Located among three beautiful hillocks Mankunnu, Kudayathoormala and Thonippara, Poonchira is a place of picturesque charm. Legends say that the pool here was a bathing place for Panchali the legendary heroine of Mahabharata. The D.T.P.C. is developing this place into a trekking spot. A tourist bungalow with rooms and dormitory to accommodate 15 people has been constructed. The beautiful valleys of Poonchira are spread across thousands of acres. The verdant landscape punctuated by the gigantic hills, each rising to around 3200 ft. is an ideal place to unwind. During the monsoons when the valley fills up to form a scenic lake, this place unveils yet another beautiful slice of nature. Elaveezha poonchira means valley where leaves don't fall and is named so because the place has no trees. This is also one of the best places in Kerala to witness both the sun rise and sunset.


Poonjar Palace


The Poonjar Palace in Meenachil taluk is a glorious testimony to the regal opulence of a bygone era. With the palace walls, is an extra ordinary royal collection of antiques and exquisite furniture which include a palanquin, a thoni carved out of a single piece of wood for ayurvedic massages, huge chandeliers, palm leaf engravings, jewel boxes, a variety of lamps, sculptures of Nataraja (dancing Lord Siva ), grain measures, statues and weapons. A unique couch preserved here is taken out once a year for ritualistic purposes. Near the palace is an amazing replica of the Madurai Meenakshi Temple. The walls of this temple have sculptures with war fare stories from the Puranas (the legends of ancient India ). However the most fascinating thing here is the Chuttuvilakku (row of lamps) carved out on the stonewalls of the Sastha Temple nearby. Such rocks cut lamps are rare in India.


WAGAMON


Situated 64kms from Kottayam, this enchanting hill station at an elevation of 1100 metres above sea level is a trekker's paradise. This enchanting hill station on the Idukki-Kottayam border dotted with tea gardens and meadows, will soon be one of India's foremost Eco tourism projects. The breeding centre of the Kerala Live stock Board is located here.







Tags :