Ernakulam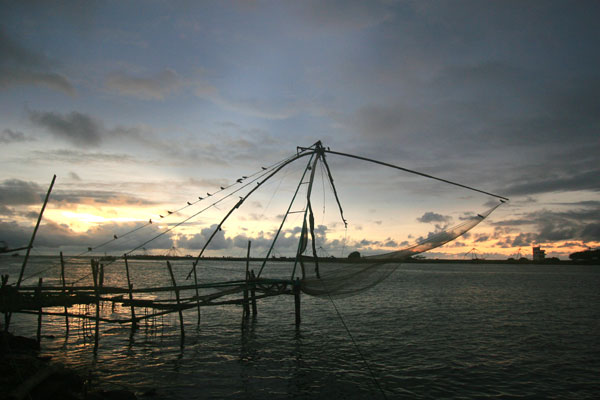 Ernakulam at a Glance


District Name Ernakulam
Headquarters Kakkanad
Goegraphical Area 2407 Sq.kms
Coastal line 46 Kms
Water bodied area 12,700 Hectares
Forest Land 8,123 Hectares
Location Latitude : 9o57' N; Longitude 76 o15' E
Boundaries North – Thrissur District, East – Idukki District, West – Arabian Sea, South – Kottayam & Alappuzha Districts
Time Indian Standard Time +5:30 hours GMT
Altitude Sea Level


ADMINISTATIVE SETUP


Taluks 7
Villages 124
Blocks 15
Panchayats 88
Corporation 1 (Kochi)
Municipalities 8
Assembly Segments 14
Parliament Constituencies 2 & Part of Mukundapuram


OTHER INFORMATIONS


Language Malayalam is the Official Language. English is popularly used in business circles.
Religion Hindus accounts for the largest community followed by Christian and Muslims. A small population of Jains, Jews and Sikhs are also residing in Kochi.
Climate Summers are hot, winters mild. The average annual rainfall is 3099.1 mm with 132 average annual rainy days.
Season Best time to visit is between October and March
Clothing Warm tropical climate recommends light cotton clothes. Waterproofing is required during Monsoons.


History


Ernakulam district formed on 1st April 1958 carving areas of erstwhile Travancore-Kochi-Malabar kingdoms. Major portion of the district is from the Kochi kingdom. The district consists of the mainland Ernakulam, the man made Willington Island, Mattanchery, Fort Kochi, world's most populous area of Vypeen Island, Bolghatty Palace etc. Kochi is the most modern city of Kerala where the best shopping, markets and bazars are located.

From time immemorial Arabs, Chinese, Dutch, British and Portuguese seafarers followed the sea route to Kochi and left their impressions in the town. The Chinese fishing nets, believed to be erected in 1350 AD, swaying in the breeze over backwaters, the Jewish Synagogue, Dutch Palace, Portuguese Architecture, Bolghatty Palace etc. enrich the heritage of Kerala.

The word Ernakulam was drawn from a Tamil word Erayanarkulam means abode of Lord Shiva's.

The present Ernakulam District include Paravur, Aluva, Kochi, Kanayannoor, Muvattupuzha, Kunnathunadu, Kothamangalam Taluks which come under Fortkochi and Muvattupuzha Revenue Sub Division. Prior to the formation of Idukki District, Thodupuzha Taluk was also a part of Ernakulam District. Ernakulam District was formed on April 1st 1958. The District which has an area of 895.3Sq.K.M. can be divided geographically as Highland, Midland and Coastal area. The altitude of Highland is about 1000 feet.

The borders of the district are the Arabian Sea in the West, Thrissur District in the North, Idukki District in the East and Alappuzha and Kottayam District in the South. Periyar, Kerala's second largest river flows through all the Taluks except Muvattupuzha. Muvattupuzha river and a branch of Chalakkudy river all gifts of this District. Average rainfall yearly is 3431.8 mm and 139 rain days. As there are rivers, lakes and seas the region has a moderate climate. Temperature is between 31.3oCand 25.8oC . Many types of sands and soil and also rocks which are geological importance is abundant here.

Majority of islands in Kerala are in Ernakulam district which was from different parts of old Cochin-Travancore-Malabar area. The main islands of this district all man-made Willington Island,World's most populated Vypeen Island, Cheriya Kadamakkudi, Valiya Kadamakkudi, Ramanthuruthu, Ponjikkara, Vallarpadam, Kumbalam, Panangad, Cheppanam, Nettoor, Pizhala, Kankattuthuruthu, Korampadam, Cheranelloor, Chathanadu, Chendamangalam. All these islands are populated areas. All these islands are believed to have formed from the soil accumulated due to soil erosion of highlands.


TRANSPORT

ROAD TRANSPORT SERVICES

Ernakulam District


Sl No. Name Telephone
1 Aluva,K.S.R.T.C Station 2624242


2 Angamaly,K.S.R.T.C Station 2453050

3 Ernakulam,K.S.R.T.C Station 2372033

4 Kothamangalam,K.S.R.T.C Station 2822202

5 Muvattupuzha,K.S.R.T.C Station 2832321

6 Perumbavoor,K.S.R.T.C Station 2523416

7 Perumbavoor,K.S.R.T.C Station 2442373

8 High Court Junction Bus Station -

9 Railway Station Junction -

10 Kaloor Bus Station -

11 Tamil Nadu Road Transport Bus Station 2372616

12 Indira Travels Inter State Private Bus Service,Jos Junction 2360693

13 Yesbee Travels,Inter State Private Bus Service,Jos Junction 2375080

14 Princy Tours,Inter State Private Bus Service,Opp.Sealord Hotel 2354712

15 Sharma Transports,Grand Hotel 2350712

16 Ashirvad Travels,Jos Junction 2367709


RAILWAY SERVICES

Ernakulam District


Sl No. Name Telephone
1 Ernakulam Junction 131


2 Ernakulam Town 2390920

3 Aluva Railway Station -

4 Angamaly Railway Station -

5 Kochi Harbour Terminus 2666001


FERRY SERVICES

Ernakulam District


Sl No. Name Telephone
1 Vypeen- Frequent Services(1/2 hour Journey) -


2 Mattancherry-Daily 6 Ferries:At 9:10,9:40,11:00,14:00,15:20,17:40(1/2 hr) -

3 Fort Kochi-Daily 30 Services:First Trip at 6:00 and last at 21:10(20 min) -

4 Varapuzha-Daily 6 Boats:(2 hour journey) -

5 Willingdon Island:Frequent Services(15 minutes journey) -



AIRPORT & AIRLINE SERVICES

Ernakulam District


Sl No. Name Telephone
1 Nedumbassery International Airport -


2 Air India Office,MG Road 2380700/2351295

3 Indian Airlines,DH Road 2370238/2353826

4 Jet Airways Atlantis,MG Road 2369212

5 Oman Air(RL Travels) Atlantis,MG Road 2357093

6 Cathay Pacific,MG Road 2362064

7 Saudi Arabian Airlines,MG Road 2352689

8 Singapore Airlines,MG Road 2351829

9 British Airways,MG Road 2364867

10 Kuwait airways,MG Road 2360123

11 Air Sahara 2365508


TOURIST PLACES

Bastion Bunglow


Built in the Indo-European style way back in 1667 AD, Bastion Bungalow get its name from its location on the site of the Stromberg Bastion of the old, Dutch fort


Bhoothathankettu


scenic dam site with boating facilities is situated in a vast virgin forest. It is a popular picnic sport with Salim Ali Bird Sanctuary near by. (50 km north east of Ernakulam town)


Bolghatty


Bolghatty palace built by the Dutch in 1744. Later it became the seat of the British Resident of Cochin. Today it is a hotel run by K.T.D.C. The grounds have a small golf course & several vantage points for lovely views of the harbour & the sea. (3 kms from Ernakulam by Boat)


Chendamangalam


This land was once the abode of the Paliath Achans, the prime ministers of the Maharajas of Kochi. Their residence, the Paliam Palace represents the architectural splendour of Kerala. The Palace houses a collection of historic documents and relics. (about 42 km from Ernakulam)


Cherai Beach


Cherai Beach offers a unique combination of sea and backwaters rimmed by lush green coconut palms. (25 kms from Kochi)


Chottanikkara Temple


Mother Goddes worshipped in three different forms - as Saraswati in the morning - draped in white, as Bhadrakali at noon draped in crimson, and as Durga in the evening decked in blue. (13 kms from Kochi)


Dutch Palace


The Dutch palace or Mattancherry palace was originally built by the Portuguese and presented to the Raja of Cochin, Veera Kerala Varma in 1555. It was later taken over by the Dutch who improved it through extensions and repairs in 1663. (Mattanchery)


Hill Palace


The largest archeological museum of Kerala. Paintings, carvings, etchings and other trappings of royalty like majestic beds ,weapons and samples of epigraphy. (13 Kms from Cochin on the Ernakulam-Chottanikara route )


Historical Museum


Important scenes of Kerala history are portrayed through through Sculptures. Greeting the visitor outside is a statue of Parasurama ,the mythological safe who is said to have created Kerala. (6 kms from Ernakulam at Edappally )


Iringole Forest Temple


Iringole Kavu, a temple in tropical rain forest in the middle of a town (8 kms from Kalady Town )


Jewish Synagogue


The Synagogue at Mattancherry built in 1568 is the oldest Synagogue in the Common Wealth Countries. It was partially destroyed in the war of 1662, but was rebuilt by Dutch. In the mid 18th century the clock tower was added. (Fort Kochi )


Kalady


Kalady is the birth place of Adi Shankaracharya the great Indian Philosopher who lived in the 8th century. 2 shrines in memory of Sankaracharya - one for Dakshinamoorthy and the other for the Goddes Sharada. (Kalady, 45 Kms from Cochin )


Kallil Temple


A 9th century Jain temple shaped out of from a huge rock on a small hill in a picturesque surrounding. The visitor has to climb 120 steps to reach this rare historic temple. (22 kms from Kalady )


Kanjiramattom Mosque


It is believed that the mosque was erected over the mortal remains of a Muslim saint, Sheikh Parid. Another great Muslim saint, Baver is supposed to have prayed here and attained salvation. (Kanjiramattom, 30 km from Kochi )


Kodanad


Kodanad is one of the largest elephant capturing centres of South India. In 1977 the elephant capturing came to an end, but the elephant kraal and training centre are still there intact. (45 kms. to the north east of Cochin city and 12 kms. to the east of Perumbavoor town )


Kottayil Kovilakam


Kottayil Kovilakam at Chennamangalam, which was the seat of Kshatriya chieftains of Villarvattom is situated near the ancient Kunnathali temple. Chennamangalam is an important center of handloom weaving and coir manufacturing. (42 kms from ernakulam)


Malayattoor


A place of prayer and pilgrimage; made rich by the foot steps of St. Thomas the Apostle, who sowed the seeds of Christianity in this part of the world. (47 kms from Ernakulam )


Marine Drive


Marine Drive is considered to be one of the most beautiful part of Kochy city. The marine walk is the main hangout for the local populace as the view of the backwaters and the harbour from here is excellent. (Ernakulam)


Pallipuram Fort


Pallippuram fort was built by the Portuguese in 1503. It is one of the oldest existing European monuments in India. The Dutch captured the fort in 1661 and sold it to the State of Travancore in 1789 This fort is situated in the northern extremity of the Vypeen Island at Pallipuram


Parikshit Thampuran Museum


This museum features collections of the 19th century paintings , Pre-historic monuments , Old coins in a numismatic gallery,Scriptures in stone & Plaster of paris, Copies of mural paintings etc & the collection from the Cochin royal family. adjacent to the Shiva temple in Darbar Hall Road, Ernakulam


Santa Cruz Bascillica


This Roman Catholic church is situated near the St.Francis church and is worth a visit.It is a specimen of portugese architecture built in 1503. 'Frescoes'and mural paintings decorate the ceiling and interior parts of the church.


St.Francis Church


The first European church in India. Originally built in wood and named Santo Antonio in the 16th Century. Vasco da Gama was buried here in 1524.


Thrikkakara Temple


The 'Vamanamoorthy' temple has notable inscriptions dating back to the 10th-13th century. ( 8 Kms. from Kochi )


Willingdon Island


A manmade island named after Lord Willingdon a former British Viceroy to india. Cochin Harbour, Southern Naval Command, Best hotels in the city, Port Trust head quarters, major trading centers etc. are situated at Willingdon Island. (Connected to the mainland by road-cum-railway Venduruthy Bridge )












Tags :