The mystery of being a 'Yuvaraj'
Posted on: 30 Oct 2010
Sudheer K M
Surprise is a common constituent in many a selection or omission processes. In 1982, it was a bolt from the blue for Yogaraj Singh to operate a new red cherry with the indomitable Kapildev at Basin Reserve, Wellington. The selection indeed was unanticipated and so was the subsequent drop after a solitary appearance. A quarter of a century later, the cricketing society is finding it hard to decide on whether the oversight of his son's exemplary talent has any element of surprise in it.

Yuvaraj himself must be hesitant in summing up the entire state of affairs. For him, it is not just a case of getting the axe for a particular series or two. The annoyance reaches much deeper since the reasons for exclusion may not entirely be his recent form or more precisely, the lack of it. He would be the first to acknowledge that the seven-year long passage was bit of a roller-coaster type. There were more lows than highs for this gifted southpaw to be perturbed. The highs were awe-inspiring, but were unfortunately limited to the shorter versions alone. The vexing lows are to be seen everywhere, more so in the traditional format of the game.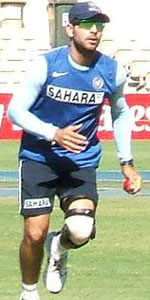 Based on the cricketing logics this would not surprise many, primarily because of the lacklustre way he has approached his test match innings. An average of thirty five in as many matches need not necessarily be a bad return, considering the fact that he batted down the order with the support of a tail, which grossly has been inconsistent. Figures are not betraying him. If one looks at the data alone, it would be hard to appreciate the logic that works against him in each of his exclusions.

It is not the easiest of things to be on par with these stalwarts of Indian top-order. No wonder that Yuvaraj with his given stature and approach, struggles to do justice to the immense talent and flair he possesses. The amazing consistency of the core leaves not much for those who follow. So rarely do they fail to deliver and the crisis that Yuvaraj has to overcome is the fact that on each of such malfunctions, we look forward for a decent repair job and there he may have to emulate certain VVS Laxman who has set some inaccessible bench-marks.

Incidentally, all the three test match hundreds of Yuvaraj came against Pakistan, the first two in Pakistan and the last one in Bangalore. Twice did he bat amidst ruins as the team lost by huge margins. All those hundreds came in the first four years and since December 2007 the magic three figure has been eluding him. His test match tally ever since is 13 with
an aggregate of 640 runs at 32 per innings. Twice he reached agonisingly close to a century but lost in the final sprint.
At twenty nine, Yuvaraj reaches a point of rediscovery. He has to think ahead of the possible flaws in his techniques, which have widely been discussed. He is entitled to ignore or agree to such suggestions as being suspect against the moving balls or high quality slow bowling. His priorities should not limit themselves to prove anybody wrong or to silence a few critics. His bat has scarcely talked for him in the past. The statements need to be strong and definite.

He has never been someone who gets enthused within. The fire came out only when something untoward happened. His initiation to the game itself was a forced one as his father was adamant that he quitted skating and pursued cricket. In 2000 at Nairobi Gymkhana Stadium, he received a thorough dressing down in public from his skipper Saurav Ganguly
during his debut innings. (Never ever, I remember to have witnessed such a harsh treatment handed out an eighteen year old, exclaimed Harsha Bhogle, right after the commercial break! ). It was a baptism by fire for him as the opposition bowling had McGrath, Lee and Gillespie in it.

That innings remains one of the very best that he has ever played. The authority behind each stroke was matchless. It indeed was a treat to watch at that point of time and he hasn't lost an iota either in power or in brutality even after a decade's grind. He is unrivalled when it comes to destruction.

Theoretically, there can't be anything like a limited overs specialist or a test match expert, but the reality may suggest otherwise. Talented cricketers of the past and the present have had troubles in adjusting to the different requirements of the game. Rare fighters like Rahul Dravid succeeded to come out of a specialist's label. There are cases like that of
Michael Slater who despite being a free stroking batsman, failed to fine-tune to the demands of one-day cricket.

It is for Yuvaraj to decide which group he wants to be bracketed along. Talent and dexterity are aplenty. It is just a matter of putting everything in to place. Surprisingly, he is missing out on that straightforward issue. Time still is within his grasp, but is indeed running out. Come on Yuvi! It is high time you acted.