Who is Chapman?
Posted on: 14 Jan 2013
Murali Thummarakudy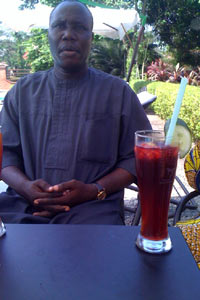 I was in Port Harcourt, meeting few Nigerian friends. We were sitting outside a restaurant one afternoon in the delta which was hot and humid. The waitress comes around to take orders.

'What will you have sir?', she asked.



'I will have a sprite', I said.

'I will have a chapman', my friend Immanual said.

'Chapman?', I thought. I must have heard wrongly.

'I will have a chapman too', said Victor;

so it was not about my hearing then! What is Chapman?,

How can a drink be called chapman? Will we have a drink called Amarjit ?

'I will have a chapman as well', Yusuf said.

So I am the only stupid guy didn't order chapman and certainly I did not want to miss out. 'I cancel my sprite and I would like to have a chapman too', I said.

Once she left, I asked my friends,

' Hey! What is this chapman?'

'So you ordered it without knowing what it is,' they asked.

'If it is good enough for the three of you, it should be ok for me too', I said.

Chapman is made by mixing sprite with grenadine; a slice of lemon is put in it. Of course, it is a cold drink, so is full of ice. A slice of cucumber is placed on the edge of the glass. It looks like coco cola and is very relaxing.

Among my friends, I have reputation for being most experimental with food. I have eaten everything that was ever served to me. In fact, I proactively look for diversity in food wherever I am. I get most angry with people who travel and for meal after meal look for the food that they are used to. Of course, I can understand them craving for their home food after a week. Of course, I can understand them not wanting to experiment every meal, But to travel to Japan and return without ever having tasted Japanese food is equivalent to a criminal offence.

People whom I get even more annoyed with are those who consider the food habits of others 'revolting'.

'Do they really eat dogs in Philippines?', some of them ask.

'You mean in France they still eat snails?', others ask.

Food habits of people evolved in different parts of the world based on the nature around them. Of course, desperate times makes people to eat stuff they would not eat otherwise!! This is not about morality or civilization.

So it is only natural that you get kangaroo burger in Perth and grilled camel meat in Salalah. It is equally natural that you eat oysters in Brussels and octopus in Tokyo.

In Kenya, where the forest is still full of wild animals and rivers full of crocodiles, the Carnivore restaurant serves a selection of exotic meat.—ostrich, elands, crocodiles, zebras. All legally harvested from private farms.

In Bangkok streets, you can buy fried grass hopper for about one dollar for a small packet. As you walk down the supersize malls in Bangkok, you can munch these bugs, exactly like how you will do peanuts on the Juhu beach.

China, naturally, is termed the capital of exotic food. Frankly speaking, my experience with exotic animals in China has not been too elaborate.

However, China did give me a humbling lesson about diversity of food. In discussions in Europe, India always get high marks for food diversity. You have so many varieties of food in India, the Europeans say. Compared to many European countries where the food diversity is very limited, it is true. From appam, to masala dosa to chappathi to nan, India has an astonishing variety in food. I thought that since our diversity in languages and sub-cultures is richer than that of China, our food diversity index must be higher.

Well, that was true till I went to Mingyang. We were invited for a dinner by the local Mayor and he said 'today we will only have dishes based on mushrooms'. And guess what, over the next three hours, 24 separate preparations all based on 24 different type of mushrooms came around out tables!!. Beat that if you can.

There are funny combinations of food too. In Kanpur, they serve Jilebi with curd for breakfast. Appetizing?

In Haiti, they serve you friend banana with sliced onion and chilly for the evening snack.

In Ivory Coast, they eat fried banana like the way we eat rice. Fried banana with chicken stew. Friend banana with fish stew. Friend banana with, well you guessed it, beef stew…

What is the most exotic stuff I have eaten?

Snails in butter in a French restaurant.

Believe me, it was delicious!!