Oppn walks out over drought issue
Posted on: 18 Dec 2012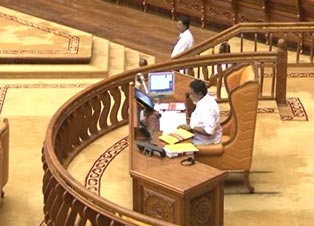 Thiruvananthapuram: The opposition on Tuesday staged a walkout from the Assembly as the adjournment motion to discuss the severe drought that is plaguing the state was dismissed by the speaker.

The opposition alleged that the govt has failed in not taking any moves to provide support to the drought hit victims. It was Mullakkara Ratnakaran who moved a notice for adjournment motion.

The chief minister while informing the Assembly said that the state is facing a severe drought and Thiruvananthapuram, Kollam, Wayanad and Idukki districts have been declared drought hit. Others districts too would be added in the list. An emergency drought relief commitee meet would be held tomorrow and after that the govt will decide on the future course of action.

The chief minister also announced that the govt is contemplating to give more funds to drought hit regions and would implement insurance schemes for paddy farmers in the state. The Tamil Nadu govt is not prepared to give water as per the Parambikulam Aliyar accord and is hesitant to hold further talks.

The speaker denied permission for an adjournment motion and protesting against this, the opposition walked out of the Assembly.