VS visits striking nurses of Mother Hospital
Posted on: 22 Nov 2012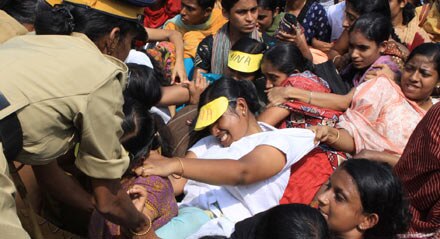 Thrissur: Opposition leader V S Achuthanandhan on Thursday visited the striking nurses of Mother Hospital in Thrissur. VS reached the place where the nurses were holding strike in front of the hospital and met them. VS assured the nurses that he would intervene and seek a urgent solution to the issue.

After meeting the nurses, VS also met the management staff of the hospital and requested them for a speedy solution.
A consensus formula is going on in the presence of the district collector. The mediators appointed by the HC will meet the management today to discuss the issue.

Police had arrested and removed as many as 2000 nurses on Wednesday for gheareing the hospital premises. 20 nurses and 3 policemen, including ASP Chowdhary, were injured in the laticharge. 4 are being treated at the district hospital.

To lend support to the nurses strike, litterateurs Sara Joseph and K Venu reached the spot. The BJP and DYFI leaders too expressed their support to the nurses. If there is no amicable solution reached, then they would also enter the arena.

The nurses at the Mother Hospital have been agitating for the last 76 days demanding implementation of Balram Committee recommendations. The functioning of the private hospitals in the district has been hit for the last one week after the nurses from various hospitals joined the agitation.