Germany honors ONV, releases German translation of poems
Posted on: 21 Nov 2012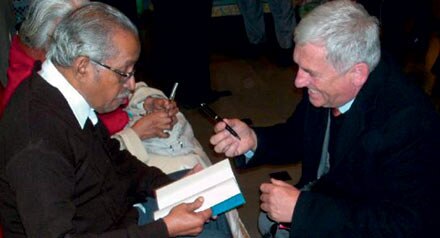 ONV with German poet Dr Arnold Standlar

Berlin: Malayalees' dearest poet ONV Kurup received the German honor at a function which was organised in Germany to release the translation of his poems in German. The function was held at Tagore Centre Auditorium at the Indian Embassy here and cultural section director Dr Sivaprasad welcomed the gathering. Prof Dr Annakutty Valiyamangalam introduced ONV.

ONV who spoke at the gathering concluded his speech after dedicating his poems which he wrote based on Moonlight Sonata, to Ludwig Van Beethoven. Dr Arnold Standlar, noted poet in Germany and winner of George Buhner award in 1999, spoke about ONV. The release of his poem collection `Oru Thulli Velicham' which was translated into German by Dr Annakutty was also held.

Dr Arnold Standlar introduced the book. ONV reached Germany through Indian Council for cultural relation and will be there till November 23. Droupathi Publication has published the book. ONV was there with his wife Saroijni and daughter Dr Maya and son-in-law Jayaprakash.