Mohanan Acharai's love for radio
Posted on: 08 Oct 2012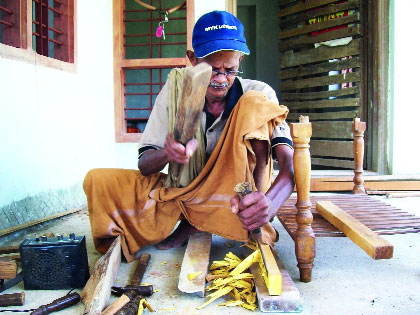 Puthoor: Mohanan Achari can't think of a life sans radio. Whenever he is awake, his radio accompanies him everywhere.

For the last two decades, this Radio Achari alias Mohanan Achari, who has proved his mettle in wood crafting, was the centre of attraction in Povattur and adjacent areas. He is always busy and when he is at work or idle, the radio is seldom off for a second. He loves old film songs and used to share his knowledge with others while hearing songs. He is a singer too. His craze for radio started when he was 15 years old.

He recollects an incident where his superiors destroyed his radio for hearing it during during work. For many years he used to carry his radio in a box made of wood but that radio was destroyed after using it for a year. Recently some well-wishers gifted him a radio seeing his immense love towards it.

He is a fan of MM Raja, PV Sreenivasan, Kamukara Purushothaman and Yesudas. According to him, old songs are always golden and has a scent of life in it.

His life is in a state of misery these days and he owns no home. He used to spend his night time on verandas of shops, schools and his work place. Though he leads a miserable life, his radio acts as his perfect companion, making him forget all harsh realities of life.