Vallathol award for Yusuf Ali Kecheri
Posted on: 03 Oct 2012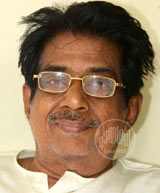 Thiruvananthapuram: Renowned poet Yusuf Ali Kecheri bagged the Vallathol Award for the year 2011. The award includes a memento and a cash award of Rs 1,11,111. The award, instituted in memory of legendary poet Vallathol Narayana Menon, was awarded to Yusuf Ali for his contribution to the Malayalam literature which, the awarding commitee felt, was a valid treasure.

Yusuf Ali Kecheri, a poet, film lyricist, film producer and director stole the limelight for an anthology called Ahaindavam, among others, but is more widely known for his Malayalam film songs he has written. He is the former president of the Kerala Sahitya Academy.

His first film was 'Sindooracheppu' for which he wrote the screenplay and lyrics for all the songs. He directed his first film - Maram (Tree), a film written by M.T. Vasudevan Nair.

He wrote the lyrics for the hit songs in the film Dhwani, composed with music director Naushad Ali. He was awarded a National Award for a Sanskrit song written for the Malayalam film Mazha (Rain).