Actor Thilakan passes away
Posted on: 24 Sep 2012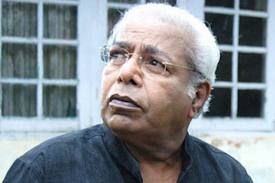 Renowned Malayalam stage and film actor Thilakan died at a private hospital here following a cardiac arrest in the wee hours today.

He was 77. He is survived by two sons and two daughters.

Thilakan had been battling for life at the hospital where he was admitted on August 23 after he had suffered two
heart attacks. He had been on and off ventilator since then and had an attack of pneumonia. The end came at 3.35 am today.

Thilakan who began his acting career in his intermediate days, had been associated with several drama troupes in his early days including the pro-Left Kerala Peoples' Arts Centre (KPAC). He entered the filmdom in 1979 with a minor role in K G George's 'Ulkadal'.

Since then, he had acted in more than 200 films and won several national and state awards. He won the National
Award for Best Supporting Actor in 1988.

He had won state awards for best actor thrice. The actor was awarded the 'Padmashree' in 2009.

Despite his long association with theatre, Thilakan became a household name only after his foray into Malayalam cinema. He began his career in cinema with a minor role in the film Ulkadal (1979). His first role as a lead character was as Kallu Varkey, a drunkard in Kolangal (1981). Thilakan established himself as an actor after he got his first State Award in 1981 for his role in Yavanika.

He has also acted in other South Indian languages, such as Tamil.

Thilakan has portrayed a range of characters. The most popular roles have been with Mohanlal when they portrayed a father-son duo. These included Kireedam, Sphadikam, Narasimham, Evidam Swargamanu, Pavithram and Chenkol. He has also played father roles to other popular actors, including with Mammootty in Sangham, The Truth, No. 1 Snehatheeram Banglore North and Pallavur Devanarayanan, with Jayaram in Veendum Chila Veettu Karyangal and Sandesam, with Dileep in Meenathil Thaalikettu, with Kunchacko Boban in Aniyathi Pravu and with Prithviraj in Sathyam. He has also played many negative roles. His roles of underworld don in Randam Bhavam, Karma and Kaalal Pada were memorable. He has played comical roles in films like Nadodikkattu and Pattanapravesham (as a coward underworld don), Mookkilla Rajyathu (as a breakout from a mental hospital), Kuttettan (as a womanizer) and Naaduvazhikal (as a good-for-nothing, vain person). He has played lead roles in many movies including Ekantham, Perumthachan, Santhanagopalam, Kaattukuthira, My Dear Muthachan, Mukhamudra (double role), etc.