Veteran drama artist G Omana passes away
Posted on: 18 Sep 2012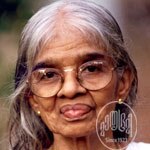 Kottayam: Noted drama artist N N Pillai's cousin G Omana (80), an actress, passed away early Tuesday. She has decades of experience in drama field. The final rites will take place at her ancestral place on Tuesday evening.

Omana is the daughter of retired headmaster Velayudhan Pillai and Gowri and was born in 1932, May 18. She esablished herself as an actor in the drama `Asalamalelikum' in 1954 and continued to serve the film industry till 1989. She had acted in over 32 dramas.

Omana bagged the best state drama artist award in 1977 and in 2002 bagged the Sangeetha Nataka Akademi award.