HC dismisses bail plea of CPM leaders Jayarajan, TV Rajesh
Posted on: 13 Aug 2012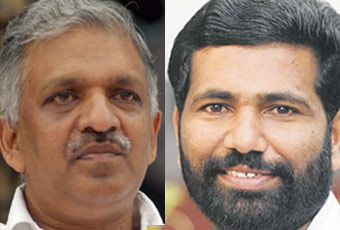 KOCHI: Kerala high court on Monday dismissed the bail application of senior CPM state leader P Jayarajan, arrested in connection with the murder of an IUML activist besides turning down the anticipatory bail plea of CPM MLA T V Rajesh, an accused in the case.

The orders in this regard were issued by Justice S S Sateeshchandran on the petitions by Jayarajan and Rajesh.

Dismissing the applications, the court held there was widespread violence during the CPM called hartal on August 2 protesting against Jayarajan's arrest.

The prosecution's contention was that the murder of IUML activist Abdul Shukkoor was executed in 'Taliban style' and that large scale-violence took place in Kannur following Jayarajan's arrest, causing loss to the public exchequer.

Jayarajan's counsel MK Damodaran argued that the case and remand report did not disclose any offence against him. The only charge was he overheard conversation made by some other accused and did not try to prevent commission of offence.

'If this is accepted, any person can be arrested for any offence. That is the situation prevailing in Kerala. Even a witness of conspiracy can be punished under sect 118 of IPC.'

Jayarajan and Rajesh had been charged under sect 118 of IPC (concealing design to commit offence punishable with death or imprisonment for life) in connection with the murder of Shukkoor at Keezhara in February this year.

Jayarajan, the CPM Kannur district secretary, was arrested on August 1.

Abdul Shukkoor was murdered allegedly by CPM activists at Keezhara near Kannavam in the district in February.

Police had claimed that some prominent CPM leaders in the district were aware of the circumstances of the murder and had sought to harbour the culprits.

They said Jayarajan was arrested after questioning of party functionaries, including Rajesh. The CPM leader had, however, dubbed the charge as 'fabricated and politically motivated'.