Sabotage not ruled out in train fire: Roy
Posted on: 31 Jul 2012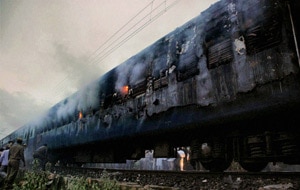 Kolkata: Railway Minister Mukul Roy Monday fuelled speculation of sabotage behind the Chennai bound-Tamil Nadu Express fire in Andhra Pradesh that killed 32 people, saying a top railway official had heard the sound of a blast.

'We are not ruling out anything. The Divisional Railway Manager (DRM of Nellore) had called me and said that he had heard a sound of a blast. So right now, neither I am saying anything nor am I ruling out anything,' said Roy here.

The tragedy took place near Nellore in Andhra Pradesh, about 450 km from Hyderabad.

The railway minister has announced a probe by the commissioner-railway safety. Railway officials have not ruled out the sabotage angle.

'We have decided to conduct an investigation to find out the fact,' said Roy while talking to reporters here in Kolkata.

The fire in the Tamil Nadu Express which killed 35 people in Andhra Pradesh early Monday was initially believed to have been caused by an electrical short-circuit but the railways would be probing it from all angles.

The fire broke out between 4.30 a.m. and 4.45 a.m. in the S-11 coach minutes after the Chennai-bound train left Nellore railway station in south coastal Andhra Pradesh.

The reported recovery of a kerosene can in the gutted compartment, the eye witness accounts and the speed with which the fire spread, all point a finger towards possible sabotage.

Some witnesses said they heard an explosion before the flames engulfed the entire S-11 coach. They also claimed that three doors of the bogie were locked, making it impossible for people to escape.

Director General of Police V. Dinesh Reddy said that it would be premature to say anything about the cause of the fire without a thorough probe by the railways.

He told reporters that a railway employee near Nellore railway station saw the fire in the running train and alerted the authorities and police.