Industrialist behind TP murder, says C H Ashokan
Posted on: 28 May 2012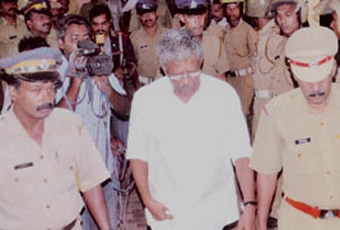 Kachi: Arrested CPM Onchiyam area secretary C H Ashokan has revealed the connection of an industrialist behind the murder of T P Chandrashekaran. He had stated this in his bail plea submitted before the High Court on Monday. He had also stated that the murder of T P Chandrashekaran was not a political murder and the said industrialist had a personal enemity with TP which lead to his murder. This industrialist is also closely linked to the Congress but failed to reveal the name of the bussinessman.

The industrialist had an enemity with T P Chandrasekharan in connection with a drinking water bottling plant at Azhiyur. TP was instrumental in organising many strikes against the plant which was engaged in many controversies. Due to this, the industrilaist was unable to open the plant in which he invested lakhs of rupees. And this was the reason behind the murder of TP. Ashokan said he was made an accused due to conspiracy. He was not allowed to give his statement before his arrest. The probe team is moving ahead as per the Congress dictum. It is the Union and the Home Ministry which is giving the direction to the probe team. Ashokan had stated in his plea.

K K Krishnan, another area commitee member who was also arrested, also filed a bail petition before the court.