T Damodaran cremated with state honours
Posted on: 28 Mar 2012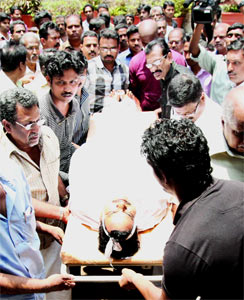 Kozhikode: The mortal remains of noted scriptwriter T Damodaran, who passed away at his residence on Wednesday, were consigned to flames at Mavoor Road crematorium with state honours around 11am on Thursday.

His body was kept for public homage at Kozhikode Town Hall from 8.30am to 10.30am today. Family members said Damodaran, 77, was getting ready to attend a marriage function when he felt a sudden pain in the chest and collapsed

He is survived by three daughters, including Deedi Damodaran, an upcoming scriptwriter. He is billed to have created the current superstars of Malayalam cinema - Mammootty, Mohanlal and Suresh Gopi. The trio, to a large extent, owes their current status to Damodaran's scripts.

He has scripted some of the biggest blockbusters in Malayalam cinema. Damodaran and director I. V. Sasi teamed up to produce many hit movies, including Angadi, Eee Nadu, Vartha, Avanazhi, Inspector Balram, 1921, Adimakal Udamakal, and Balram vs. Taradas. He also teamed up with director Priyadarshan to produce many hit movies including Aryan, Advaitham, Abhimanyu, and Kala Pani. His daughter, Deedi Damodaran, is also a screenwriter of Malayalam cinema She made her debut with the film Gulmohar.

Popularly known as Damodaran Master, T. Damodaran began his career in cinema as script writer in early 70s. A physical education teacher in a school at Kozhikode by profession, Damodaran became active in theater by late sixties and got into the company of several theater and cinema artists of the era including Thikkodiyan, Kuthiravattom Pappu, Hariharan and Kunjandi. His dramas were mainly packed with social issues and this was noticed by Hariharan, who forced Damodaran to enter into cinema making. Though, made his debut in 1973, Damodaran became active in cinema by late 70s, after joining with Sasi with whom, he later made around fifty films. It was the huge success of Angaadi in 1980, that formed a turning point in the career of Damodaran. Directed by I. V. Sasi, Angadi has Jayan and Seema in leading roles and broke several collection records. This was followed by Meen, Kanthavalayam, Karimbana , all super hits.

In the 80s, the scripts of Damodaran created sensation and furor at theaters. The scripts were mainly socio-dramas, which often criticized the establishments and were packed with heavy punch dialogues. Mostly directed by Sasi, these films were well received by general public. Thadakam, Thushaaram, Ee Nadu, Innalenkil Naale, Iniyenkilum, Vartha, Angadikappurathu, Avanazhi, all were huge hits at box office. Apart from I. V. Sasi, T. Damodaran, also wrote scripts for directors like Priyadarshan, Anil and Bharathan. Mani Ratnam's first and only film in Malayalam Unaru was based on the script by Damodaran in 1985, but it failed to create positive response. In the year 1988, Sasi directed a periodic drama based on the script by T. Damodaran, 1921, which was then the most expensive film in Malayalam. T. Damodaran has called this film as his dream project. Appearing Mammootty in leading, 1921 revolved around the Moppillai mutiny in Malabar in 1921 against British. This film was a huge hit at box office.

Though, in 90s, Damodaran reduced the number of films, several hits were born from his pen. Inspector Balram, Abhimanyu, Advaitham, Kala Pani were some among them. But around mid nineties, his films started tasting continuous failures, forcing him to withdrew from script writing for a period. The City, Mahathma, Kaatile Thadi Thevarude Aaana, all were big flops at box office. Damodaran made an attempt to come back in 2005 through Balram vs. Taradas, which he wrote along with S. N. Swamy, another popular script writer, again directed by I. V. Sasi, but suffered a huge setback at box office. His next release was Yes Your Honour, directed by V. M. Vinu, starring Sreenivasan, Padmapriya, Innocent, and Saikumar, which was a hit.