Imran Khan - Can he bring a change?
Posted on: 13 Jan 2012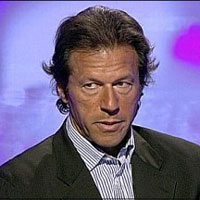 We don't know whether anybody laughed when Imaran Khan, the aging cricket super star in late '80s, claimed in 1992 that he was going to win the World Cup that year. But he did win and became a national hero. After retirement he dabbled in social service and politics. Unlike cricket, his career graph in politics is nothing to write home about. His party, Pakistan Tehreek-e Insaf (PTI), won just one seat in the national assembly during its 15 years of existence. Mainstream political parties and media pundits had already written him off as political joke. But this man, whom nobody has taken serious note of, claimed that in the next election his party would rid Pakistan of corruption, poverty and violence! Is he serious? There seems to be some point in his optimism. To read the story in Foreign Policy click here.