Mathrubhumi literary award presented to Azhikode
Posted on: 03 Nov 2011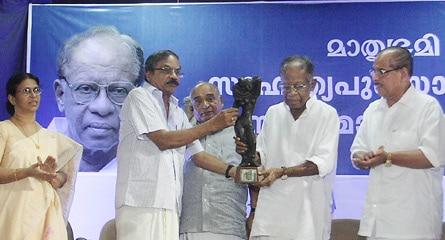 Kozhikode: Mathrubhumi literary award 2010 was presented to Dr Sukumar Azhikode at a function held on Thursday at the Kozhikode Town Hall. The award was instituted by Mathrubhumi in 2000 and is the highest literature award in Malayalam consisting of a cash prize of Rs 2 lakh, a plaque and certificate. MT Vasudevan Nair presented the award to Sukumar Azhikode.

Hailing, Dr Azhikode for his immense contribution, MT Vasudevan Nair said Dr Azhikode came out with his valuable opinions after deeply observing every topics, including sports.

His deep knowledge about sports was evident when he wrote about cricketing maestro Sachin Tendulkar and American Tennis player and former World No 1 Pete Sampras through his columns.


Mathrubhumi managing director MP Veerendrakumar presided and editor M Kesavamenon draped a ponnada. Dr KS Ravikumar, Dr Khadeeja Mumthaz, Alankode Leelakrishnan speak. Mathrubhumi managing editor PV Chandran welcomed the gathering and Mathrubhumi books manager K Noushad delivered the vote of thanks. The portrait of Azhikode drawn by Mathrubhumi artist Madanan was presented to Azhikode in the function.


Earlier, Vishnunarayanan Nampoothiri, Kovilan, Thikkodiyan, M V Devan, Pala Narayanan Nair, O V Vijayan, MT Vasudevan Nair, M Mukundan and Akkitham bagged the award.

The jury consisting of Vishnunarayanan Nampoothiri as president and Dr KS Ravikumar and Dr Khadeeja Mumthaz as members selected Azhikode for this year's achiever.

Dr. Sukumar Azhikode was born on May 26, 1926 at Azhikode, Kannur. He took BT in Malayalam followed by MA and PhD in Malayalam. Azhikode was a teacher at Rajas High School, Chirackal, St. Aloysius College, Mangalore and Devagiri College, Kozhikode and later Principal of SNM Training College, Moottakunnam, and a Professor and Pro-Vice-Chancellor of Calicut University. He retired in 1986.

Azhikode's most famous work is Tatvamasi, an authoritative book on Indian Philosophy, Vedas and Upanishads. He has won many awards including the Indian Sahitya Academi Award, Kerala Sahithya Academy Award, Vayalar Award and the Rajaji Award. He is now resding at Iravimangalam, Thrissur.