C Radhakrishnan bags Vallathol Award
Posted on: 01 Oct 2011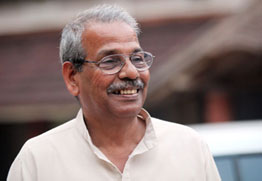 Thiruvananthapuram: Renowned writer and film director C Radhakrishnan bagged the Vallathol Award for this year. The award includes a memento and a prize money amount of Rs 1, 11, 111. Vallathol Award is instituted by Vallathol Sahithya Samithi in memory of Mahakavi Vallathol Narayana Menon.

Radhakrishnan has been honoured by both the National Sahitya Academy of India in 1989 and the Kerala Sahithya Akademi of Kerala in 1962. He had bagged the Vayalar award, Mooloor Award and other top honours. His works have been translated into various Indian and foreign languages.

He was a two-time member of Indian National Film Award Committee and member of Kerala Film Development Corporation Director Board.

His latest book is Geetadarsanam and his other works are Nizhalppadukal, Mareechika, Mathruparvam, Pullippulikalum Vellinakshatrangalum, Ellam Maykuna Kadal, etc. Nizhalppadukal has been translated to French.