Meen achar (Fish pickle)
Posted on: 01 Jun 2011
This pickle is the authentic Kerala spicy, delicious and colorful fish pickle which can go good with rice. Any fish can be used to make this achar. Savoured by all in the family, when prepared withmost care, it would have a longer shelf life.

Rakhi Joshi

1 Fleshy fish 500 gm
2. Chilly powder 1 tablespoon
3. Turmeric powder 1/2 tablespoon
4. Ginger chopped 1 tablespoon
5. Garlic 8 cloves
6. Vinegar 1/2 cup
7. Mustard 1 tablespoon
8. Chopped onions 1/4 cup
9. Water 1 cup
10 Sugar 1 tablespoon
Salt
11 Fenugreek, asafoetida dried and powdered.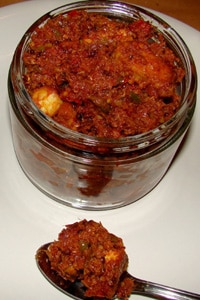 Cook the fish cut into small pieces, adding salt and turmeric powder. Later fry it in oil and keep it aside. Grind items 2 to 6. In a frying pan season mustard seeds with little oil and saute the onions till it is golden brown in colour. Add the grinded mixture and let it simmer for some time in slow heat. When the oil starts floating on top add little water. When the water starts to boil nicely, add vinegar with sugar and salt mixed. When it is brought to boil add the fish pieces and when the gravy becomes dark in colour, sprinkle the powdered fenugreek and asafoetida. Meen achar is ready to be taken with rice or chappati.