1,373 nominations for Kerala polls
Posted on: 27 Mar 2011
Thiruvananthapuram: A total of 1,373 candidates have submitted their nominations for the April 13 polls for Kerala's 140-seat assembly, state election officials said Saturday.

Saturday was the last day for filing of nominations.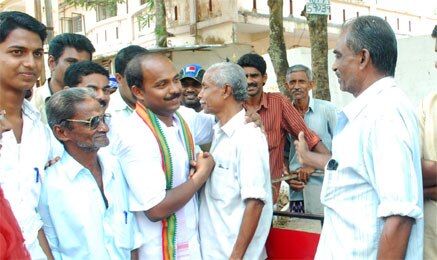 The number of nominations is 100 more than the number in the the 2006 assembly polls.

Thiruvananthapuram district, with 16 assembly seats, has the maximum number of contestants while the lowest are in Wayanad district, which has just three seats.

Scrutiny of nominations would take place on March 29 and the last date for withdrawal is March 30.

According to the latest revised electoral list, there are a total of 22,878,767 voters -- 11,919,652 women and 10,959,115 men -- as compared to the figure of 21,430,061 for the previous elections.

This time, there would be 20,758 polling booths in 11,662 polling locations, officials said. Apart from these polling booths, around 500 auxiliary polling booths also would be there and the details would be announced before the polls, they added.