script writer Sarangapani dies
Posted on: 02 Feb 2011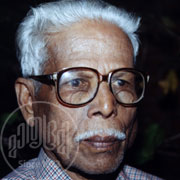 Veteran Malayalam scenarist Sarangapani, who has written stories and dialogues for over 30 films, died here today, family sources said. He was 86.

Sarangapani, who was suffering from ill health for quite some time, is survived by two daughters and a son.

He mostly wrote stories and scripts for movies made by producer-director late Kunchacko under the banner of Udaya Studios. Many of his films of 1960s and 1970s had been huge hits.

His successful scripts included those based on folklore of Malabar, known as 'Vadakkan Pattukal', dealing with the lives and times of folk heroes and heroines like Thacholi Othenan, Unniyarcha and Aromalunni.

He also wrote scripts for several social theme-based films like 'Manishada' and 'Thara'.

A dramatist, who began his career with the Leftist stage movement, Sarangapani was active in the Communist movement in his early life. But later, he left politics to devote his creative talents to writing film scripts.

His popular films included 'Unniyarcha', 'Othenante Makan', 'Kannappanunni' and 'Araomalunni', most of them with the evergreen Malayalam matinee idol late Prem Nazir in the lead role.

His last film was the Mohanlal starrer Kadathanatan Ambadi. He was the recipient of several awards in his lifetime.

Sarangapani had written dialogues for various movies including Umma, Unniaarcha, Paalatu Koman, Thumbolarcha, Aaromalunni,Kannappan unni, Paalatu Kunchikannan, Kadathanatu Makkam, Kadathanattu Ambadi, Neeli, Aysha, Posttumanne kaananilla, etc. Apart from films, he had written dialogues for dramas too.