Mankada Ravi Varma passes away
Posted on: 23 Nov 2010



Chennai: National Award winning cinematographer Mankada Ravi Varma passed away in Chennai on Monday due to Alzheimer's. He was 84 years old.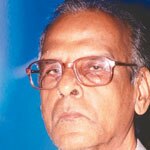 Mankada Ravi Varma may not be a household name, but odds are you've seen something he helped shoot. He served as cinematographer for noted Directors like Adoor Gopalakrishnan, Aravindan and PN Menon. He won two National Awards for cinematography, one for Adoor Gopalakrishnan's Swayamvaram in 1972. In 2000, he won it for his documentary, Kalamandalam Gopi.

Ravi Varma also has won a special jury award for his own film, Nokkukuthi, based on a poem by noted Malayalam poet, M Govindan in 1984.

Varma's association with Malayalam films started over three decades ago. But he has always been associated with serious cinema.