Cine actor Santhosh Jogi found hanging
Posted on: 14 Apr 2010
Thrissur: Malayalam film actor Santhosh Jogi was found hanging in his friend's flat on Tuesday afternoon. Santhosh who gained recognition within in a short period in the film industry has acted in around 25 films. He had also proved his mettle in theatre and music field. The reason for death has not yet been confirmed.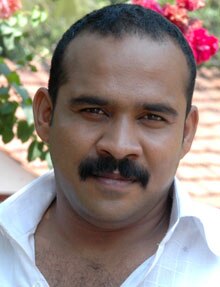 Jogi, who reached the flat in old Nadakkavu by Monday night, slept there. When his friend returned home, he found the door locked from inside and there was no response. He soon alerted the police who found Santhosh hanging on opening the door.

Santhosh, son of Eravimanglam Oryampurath Sethumadhavan, was staying in a flat in Ayyanthol wih his family. Santhosh completed his eductaion from Vyasa College and Pune. When he was working as a singer in Dubai, that he entered into film field. He became famous with the role of Kisorilal in the film' Keerthichakra'.

His performance in Keerthicharka , Mayavi, Rajamanikyam, Ali Bhayi and Balram v/s Tharadas and were worth notable. His other films Pokkiriraja , Christian Brothers are yet to be released. His father Sethumadhavan was also a drama artist. He is survived by mother Malathi wife, Jiji and daughters Chithralekha and Kapila. Sujith is his brother. His another brother Satheesh committed suicede three years back.