Buy Mathrubhumi year book plus 2013- English now.!!
20 Dec 2012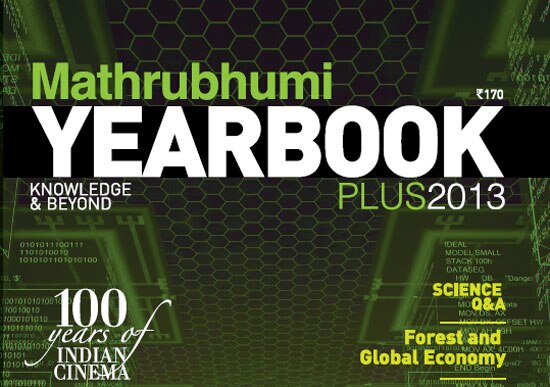 Mathrubhumi year book plus 2013, knowledge and beyond, provides knowledge seekers with a plethora of information on varied subjects. This year's Yearbook has extensively covered Indian cinema, which is celebrating its 100 th anniversary. The segment is a feast for Indian cinema history lovers as it carries information on Precursors of India cinema, the formative decades and coming of sound. It also covers the Golden age of Indian cinema.

Click here to buy Year book

The yearbook offers a clear view of the India's ties with its neighboring nations in the segment dwindling dividends of Democracy-Indian foreign policy in the neighborhood. The yearbook has this year given major impetus to technological development in varied sectors. For science lovers, here you will be updated with new frontiers and breakthroughs in Science and technology segments, which includes an extensive coverage of large Hadrons Collidor experiment.

A widespread coverage of Indian history, Indian economy, locating India in the global economy, decentralized governance through panchaythi raj institutions and a complete profiles of all states in India. The year yearbook also carries segments like hot offs, which has thrown light on the major happenings around the world, world of science, environment coverage both global and Indian, English for competitive examinations, World trivia, times 2012, which highlights major happening in sports, major appointments and prominent deaths. All in all this is a one- stop destination for knowledge seekers.
Tags :